Information posted November 17, 2012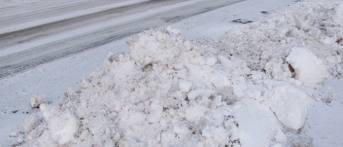 A snow windrow is the pile of snow that is left at the end of driveways after a snow plow has cleared the road. This can be very difficult to remove, especially for seniors and those with disabilities.
The Town of Oakville together with Links2Care has developed a program to help these individuals BUT there is only one week left to register for this program. Registration closes on November 23rd.
There is a non-refundable fee for the winter season of $82.50 plus HST ($92.23)
The program runs December 1, 2012 to March 31, 2013.
Eligible Oakville residents include:
Seniors 65 years of age or older (proof of age is required)
Persons with a physical disability (a doctor's note is required)
Applicants must register in person at:
Links2Care, 250 Wyecroft Road, Unit #2, Oakville
Registrants will also need to sign a declaration stating that no able-bodied person under the age of 65 is living at their residence.
You can pick up a Registration form at;
All Town of Oakville libraries
All Town of Oakville Community entres
Town Hall
Sir John Colborne Seniors' Centre
Kerr Street Seniros' Centre
Links2Care
Or you can download a registration form by clicking on this link  2012 registration form
Both Milton and Burlington offer a similar service however the registration deadline has passsed. Halton Hills does not offer this service and recommends residents contact Link2Care, who it is understood will help arrange for a contractor to remove the windrow at the residents expense.
For more information please conatct Links2Care, Oakville at 905-338-7669 or go to their website Links2Care. They may also have advice for residents who need this service but have missed the registration deadline.