November, 2012: Canada's new polymer bank notes have been around for almost a year now, but not all of us are receiving, or passing around $50 and $100 bills on a daily basis, so for most of us, the new $20 note rolling out this month will be the first chance we get to touch and feel this new "plastic" money from the Bank of Canada.

The new Twenty features the iconic Vimy Ridge memorial on the side opposite a new portrait of Queen Elizabeth.
The new notes have a new feel, a number of new security features, and are made to last at least 2.5 times longer than cotton-paper notes.
Watch the video above to learn about the new design, and check out the information below from the Bank of Canada, with the new security features.
How to Check Notes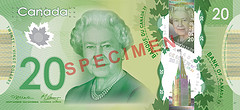 Feel. Look. Flip.
The new $100, $50 and $20 polymer notes are easy to check and hard to counterfeit. They have the same innovative security features that can be seen in transparent areas on both sides of the notes.
Feel
Look
Flip
Flip the note to see the features in the large window repeated in the same colours and detail on the other side.
Added Security