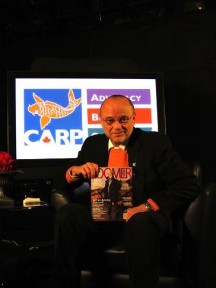 Moses Znaimer is a busy man.
Fresh from a presentation to members of several Lower Mainland chapters of CARP (formerly the Canadian Association of Retired Persons) the previous day, the 70-year-old media mogul is in the middle of a series of sit down interviews at the Joytv 10 studio on the Langley-Surrey border — one of several stations under his Vision TV banner.
This article was published by The Aldergrove Star on November 21st, 2012.  To see this article and other related articles on  the Aldergrove Star website, please click here
It's all part of a quick swing through Western Canada as Znaimer promotes Zoomer — CARP's magazine — and spreads the word about the power and influence held by Baby Boomers across the country.
Znaimer— who founded Citytv and Much Music more than 30 years ago — is an advocate for the demographic he has dubbed "Zoomers" or Boomers with zip.
It encompasses anyone born during or before 1967 — incidentally, Canada's largest and most affluent age group.
The definition of zip, he says, is simple. It means living longer and better, with more dynamism and drive.
On average, Znaimer notes, Canadians are living 25 years longer than we did a century ago. And that's good news, he adds, even though there are still some who choose to see it as a problem.
There is this notion of a grey tsunami — a huge wave of older people — who are a drain on the health care system, he says.
"Generally speaking, Zoomers live long and healthy lives, not putting any special pressure on the health care system."
Of course there are challenges that come with an extension of old age, Znaimer concedes.
A lot of people, for instance, haven't prepared financially to live independently into their 80s and 90s, though that's the position that more and more people find themselves in.
Of course, income isn't the only reason to keep working past 65.
As president of CARP, Znaimer finds himself in the unique position of leading a so-called retirement organization, when he actively opposes retirement.
"I advocate against retirement that will kill you," he clarifies.
"When people disengage, they begin to decline. You need a reason to get up in the morning.
"The best way to keep going is to keep going."
Of course, people may not want to work at the same intensity or even at the same thing as they have been doing, but coming to a complete stop is not the answer, he says.
In fact, CARP fought "very successfully" against mandatory retirement, says Znaimer.
Now the non-profit agency focuses on advocacy in the areas of pension reform, age of eligibility for OAS, monitoring of seniors' health and welfare, home care and aging in place.
Membership also offers financial benefits — savings in a range of areas from hotels, to car rentals and insurance — and connects Canadians across 56 chapters nation-wide.
A person's senior years are the perfect time to enjoy the fruits of years of labour, but that's a fact that still seems to be lost on advertisers and the media in general, he says, as both continue to reflect the culture's fascination with youth.
It is something Znaimer concedes he also did during his days in pop culture television.
Advertisers continue to chase a community that has less disposable income and is fewer in numbers.
When they do happen to be featured in programs or advertisements, seniors are often portrayed as ditherers, he says.
"Who do they think is running the world?"
The logic, he says, is that while young people are still forming their tastes and preferences, older Canadians are set in their ways, and have already bought everything they're going to buy. A notion he discounts entirely, adding there is a change coming.
"The Zoomer world is beginning to take notice that they're being ignored."
That's where his own magazine comes in. Far from a vehicle to advertise step-in bathtubs and motorized stair lifts, Zoomer, published nine times a year, covers everything from travel to fashion, arts and culture, food, fitness and finances. And, of course, health.
There are also profiles of famous Zoomers and essays written by Znaimer on a range of issues pertinent to the demographic.
What's missing are the 19-year-old models and the message that, somehow, maintaining one's youth is the only thing that matters.
"We don't make you feel bad about being old," he says.
Magazine and speaking tour aside, it's no small job to counter to the stereotypes about older Canadians that he says are still prevalent in today's society.
"Ageism is one of the last antipathies still floating around that gets a pass," says Znaimer.
"There's this idea of me at home in a rocking chair, chewing on my gums and waiting for my pension check to come so I can buy dog food.
"How ridiculous is that?"