Information posted November 28, 2012
Halton Chapter would like to establish a Nordic Pole Walking group. Myrna Penny will be spearheading this initiative.  You will not only realise all of the health benefits of this excellent exercise but it is hoped that with enough interest there would be organised group events plus participation in organised walks.
 NORDIC POLE WALKING
GIVE THE GIFT OF HEALTH & WELLNESS THIS CHRISTMAS
The most effective low-impact Physical Activity shows proven benefits for Fitness, Therapy & Rehab for Total Body Wellness.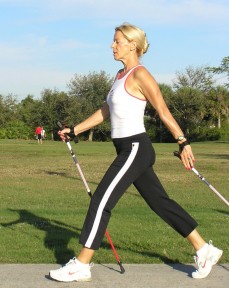 Nordic Pole Walking is significantly more effective than Regular Walking. Scientific & Clinical Studies show:
à Incorporates more than 90% of body muscles with each stride
à Strengthens Upper-Body Muscles
à Results in upright Body-Posture
à Burns up to 46% more calories than exercise walking. A working muscle burns    calories. The more muscles you activate, the more calories you burn.
à Diminishes Neck, Shoulder and Back Pain
à Best exercise for Diabetes. Reduces the need for medication after 3 months of adhering to a Nordic Pole Walking program (Clinical Study: M.Nischwitz, 2006, Germany)
à Pole walking is an example of weight bearing exercise. Weight bearing exercise has been shown to increase bone density.
à Decreases  High Blood Pressure by 18mmHg after 8 weeks  (Ishikawa 1999, Diehm, 2007)
à Increases Oxygen respiratory by 25% or more, enhancing brain function & cognition.
à Up to 30% less impact on knee and hip joints
     … and more
à Proper technique is important for positive results. It is very easy to learn from a qualified instructor.
Special Offer:
Global Traveler Poles + 3 lessons = $109.95 + HST
Global Walker Poles + 3 lessons = $94.95 +HST
This special package is available from certified Nordixx Pole Walking Myrna Penny, certified Nordixx Pole Walking Instructor.  Please contact Myrna at
email: [email protected]
Telephone: 416-433-8406