Information posted December 5, 2012
With lots of good food available which was provided by Chartwell Classic Retirement Residence of Oakville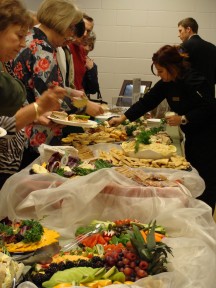 over 100 members and their friends enjoyed our Social Evening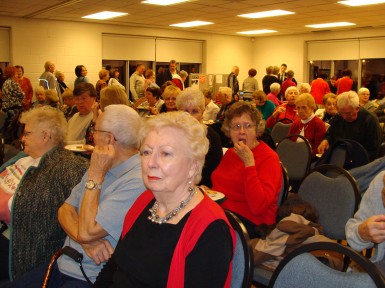 which we held at the Seniors Centre in Burlington on November 27th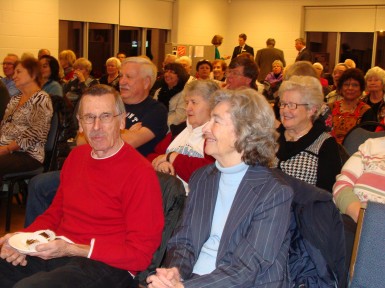 With Aidan Purnell supplying his mix of Christmas and contemporary music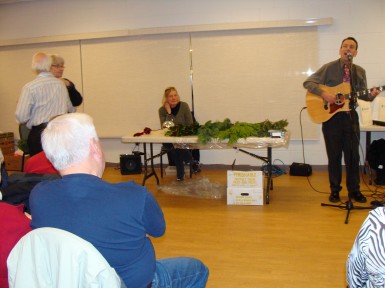 he quickly had people singing along  and his toe tapping music soon had people up and dancing.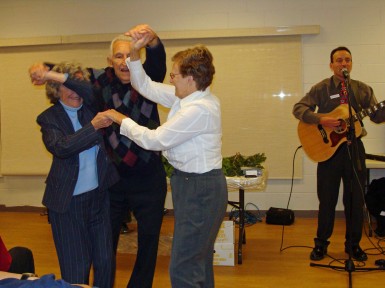 Among our sponsors for the evening were Holland Park Garden Gallery. Henrietta represented them and demonstrated how to make Christmas decorations from readily available materials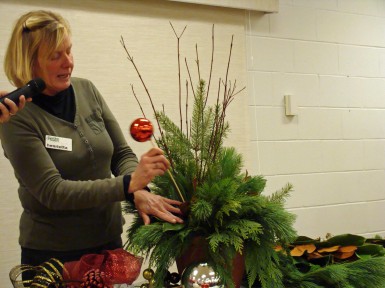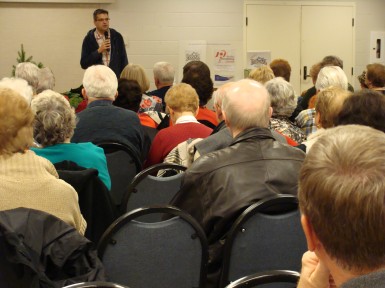 Robin Bailey of the  Salvation Army was on hand to explain the growing need  of those less fortunate in our community.
We would like to thank all of those who brought non-perishable food donations for their Food Bank.
Robin was delighted that a number of members came forward to volunteer at this busy time of the year.
We wish to thank our sponsors who donated door prizes, most of which are seen below.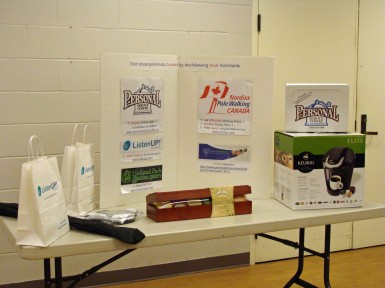 These prizes were drawn as at various times as the evening progressed. First up were two Alarm clocks donated by ListenUP Canada. These were won by Andy Frame and Tilley LeDrew who are seen below receiving their prizes.
Ruth Anstice won the Selection of Fine Teas donated by GEM Health Care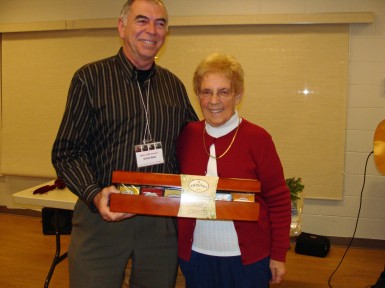 Norm Freiden was the lucky winner of a Kuerig coffee emaker which was donated by Personal Service Coffee.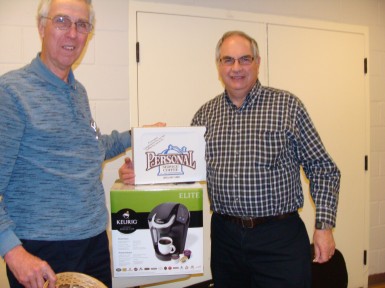 Holland Park Garden Gallery kindly donated the Christmas decorations that Henrietta had demonstrated. These were won by John Duthie and dancers extraordinaire Bob and Aileen Moore who are seen below with their prizes.
Nordixx Canada donated a set of Nordic Poles complete with a waist pack and a free lesson. This prize was won by Madeline Allan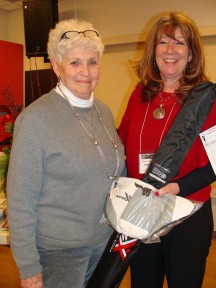 Probably the most surprised person of the evening was Kathy Brizland. Chartwell Classic donated  two prizes; a Tea Set for the Burlington meeting and a Kuerig Coffee maker which was entered in a combined draw with Milton. Kathy won both of these prizes.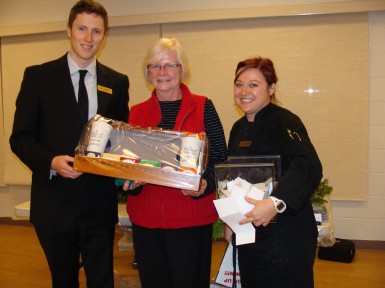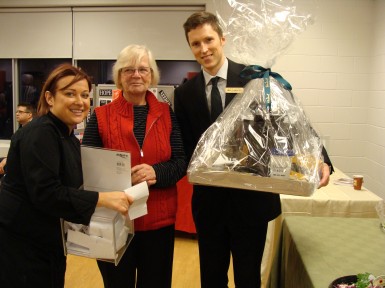 Kathy receives her prizes from Chartwell Sales Manager Mike Cumpstey and Chartwell chef  Anna.