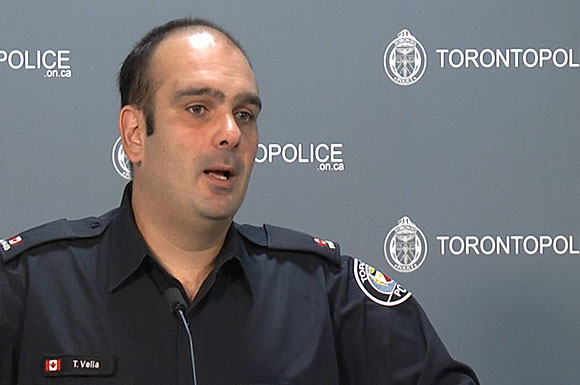 Constable Tony Vella: "On many occasions the victims don't realize they've been robbed until they get home."
It begins on the street with a stranger's heart-rending story and often only ends later with the discovery of missing jewelry.

Thieves have been targeting seniors across the Greater Toronto Area since July in a string of what Const. Tony Vella of the Toronto Police Service describes as distraction thefts.
This article was published by The Toronto Observer on December 3rd, 2012.  To see this article and other related articles on The Toronto Observer website, please click here

"We know that some of the people that have been targeted are of Portuguese and Italian descent, both men and women" he said.

The victim will say no, but the woman will pull out the plastic piece of jewelry, place it on the victim while removing the victim's jewelry and taking off.

—Const. Tony Vella
The thefts, Vella said, are usually carried out by a man and a woman. The man drives a rental car as the pair searches for a person to target, he said.

The woman then approaches the intended target and tells him or her that a loved one has just died, Vella said.

"The woman will tell the victim that [their] loved one wants them to have their jewelry," he said. "The victim will say no, but the woman will pull out the plastic piece of jewelry, place it on the victim while removing the victim's jewelry and taking off.

"On many occasions the victims don't realize they've been robbed until they get home."

Seniors are more frequently targeted because they are a "generation of people that are just more trusting and neighbourly," said Susan Eng, vice-president of advocacy for the Canadian Association for Retired Persons.

"Bottom line is people need to take care of themselves," Eng said. "When it comes to other language groups, getting information on protecting themselves is often found through newspapers, television or radio programs in their own language."

To keep from becoming a victim of a distraction theft, Vella said "listen to your gut".

"When someone suspicious approaches you, always keep a space of distance from them," he said. "If you get the feeling something is wrong, make noise, create a distraction where witnesses may see. And most importantly call police and tell others in the community."

When out in the community, people should always be aware of their surroundings, walk in well-lit areas and educate themselves as best they can, Vella said.

"To help the police and yourself, always take down the serial number and model make of your jewelry," he said. "Take photos and keeps records of them so we know who the jewelry belongs to if it's stolen."