The unsung heroes take centre stage 11 Dec 2012 Haliburton Echo by Staff Reporter Darren Lum. To view the article on line at the Haliburton Echo, click here. Photos courtesy of Frank Thom.
On Wednesday afternoon a crowded room representing some of the volunteers who make things happen in the Highlands came together as part of the International Volunteer Day event facilitated by CARP Haliburton Highlands Chapter 54.
It was an opportunity for close to 50 volunteer spokespeople to speak about the efforts of local volunteers in the Highlands at the Haliburton Curling Club. The volunteers are part of the diverse range of organizations falling under categories such as arts and entertainment, environmental stewardship, services and churches, sports and outdoors and health and social services.
The MC radio personality and dedicated volunteer, Mike Jaycock, who has more than 50 years of volunteering experience, knows first-hand the value of volunteers to a community. Locally, he is aware of the many events and fundraisers through the announcements he regularly reads on the air. Jaycock said the thousands of volunteers are the strength behind our community.
 "I imagine all the volunteers behind that and my heart wants to burst at the power of volunteerism in the Highlands," he said.
Despite more than 50 service groups represented and with just a few minutes for each representative to speak, he kept things moving and light with his banter and timely comments.
Jaycock said five years ago there were five million volunteers in Ontario who gave time to charitable and non-profit organizations and believes this national ratio applies locally.
"If you do the math … that would mean here in Haliburton County we have close to 5,000 people volunteering. I'll betcha that's true. That's even before we count the young people. You're a crucial natural resource for the Haliburton Highlands. It helps us in many ways. It helps us make sense of our world," he said.
For all the problems he is aware of in the world from conflicts to the economic crisis, Jaycock said, he doesn't understand or know their outcomes. Volunteering is starkly different.
"The beauty of volunteering is when you undertake a task you know exactly what the objective is. You know what the end game is about. It helps us express our compassion for others," he said, adding life can be difficult because of personal challenges.
"We're surrounded by many personal and family issues. When we volunteer we put our worries on pause. We go out of ourselves and we focus on doing well for others. Our compassion is a good reminder we are all a part of one earth," he said.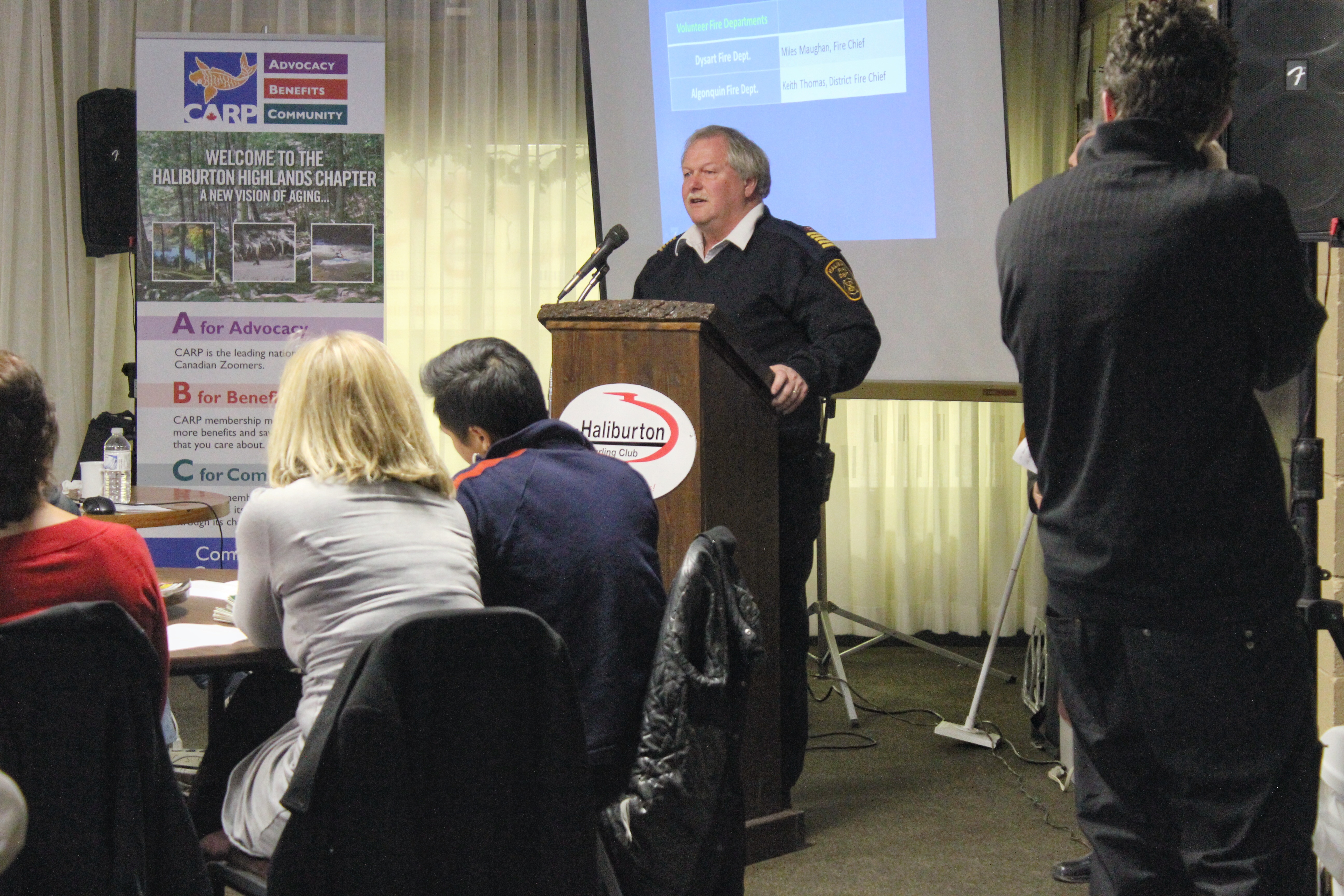 Special guests for the event included MPP Laurie Scott and outgoing Haliburton County Warden and Dysart Reeve Murray Fearrey. "What would we have as a county if those volunteers didn't carry on what they do? It's free will. It speaks well of the conscience and commitment of the people that have come to the county," he said, referring to Scotty Morrison and others like him. "Look at the commitment he made. I could name so many of you."
Fearrey congratulated all the volunteers for everything they do and referred to them as a "great bunch of people." Scott gave thanks on behalf of the province and said the Highlands have great volunteering reputation. "Our communities would not be what our communities are without the efforts of all of you in the room
and your families because they let you go and volunteer. It's time away from them. It makes a great big difference," she said.
Minden Hills Reeve Barb Reid also attended.
In 1985, the United Nations volunteers founded International
Volunteer Day.
The relatively new reverend Joan Cavanaugh of the Anglican Parish Minden-Kinmount, who rivaled Jaycock with wit and humour in her brief time at the podium, propositioned potential volunteers in a unique way. "The pay is not so great, but the benefits are heavenly," she said.