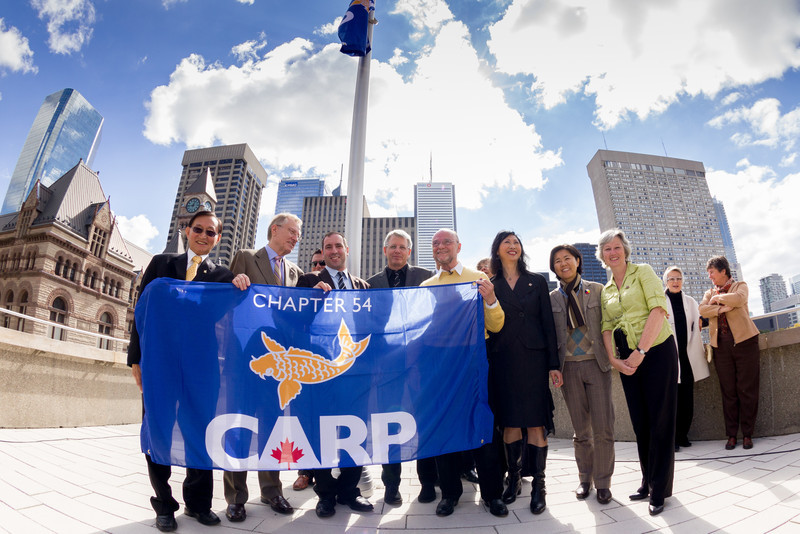 December 20, 2012 – CARP has long advocated for Age-Friendly Cities (AFCs), a concept conceived by the World Health Organization in which a city has services, policies, structures, and environments that enhance the quality of life for people as they age. Regardless of age, whether you are 5 years old or 80 years old, AFCs aim to address people's needs and ensure that they remain engaged in every aspect of civic life, allowing everyone to fully and equally participate in society.
CARP has emphasized universal mobility with tools such as accessible and affordable public transit to 'walkable' neighbourhoods. This is important in enabling people to safely access and navigate social services and friends and family.
CARP has also raised the need for more Universal Design and Barrier Free planning in buildings, services, technology, and environments. Such concepts are particularly important as older adults want to age at home and live as independently as possible, and often a few adjustments can increase people's ability to do so.
For example, Dr. Geoff Fernie and his research team at Toronto Rehab developed pressure-fit transfer poles that provide support for people to move around their homes safely, such as getting up from their beds or walking from their bedroom to the washroom. The poles have strategic grip placements as well as separable components for easy to set up and adjustment at home. To learn more about this project and others that promote age-friendly environments, watch his presentation that was presented at Canadian Association on Gerontology's conference.
In addition to such research, there have been various local activities to help make age-friendly environments a reality:
CARP's flag was raised at Toronto's City Hall and several other cities across the country as part of National Seniors Day on October 1, 2012, where we reminded the public and the city councillors of their role in creating more age-friendly cities.
The City of Ottawa is working with The Council on Aging of Ottawa has designed an Age-Friendly Action Plan with the input of local seniors, service providers, caregivers, and businesses to make Ottawa more age-friendly. CARP's Ottawa Chapter Chair, Janet Grey was invited to join the steering committee and has been involved in this planning process. Read more about Ottawa's age-friendly initiatives.
The City of Winsor, Ontario became a member of the WHO's Global Network of Age-Friendly Cities in June 2012 as a result of the efforts of the Windsor Seniors Advisory Committee to promote principles of "aging in place" and "healthy and respectful living". Led by Larry Duffield, Chair of the Windsor Seniors Advisory Committee and past-Chair of CARP's Windsor Chapter, the committee is preparing a multi-year Age-Friendly Windsor Action Plan. Read more about Windsor's age-friendly initiatives.
CARP will continue to call on governments to practice and implement age-friendly governance and policies. Although age friendly cities cannot be built in a day, greater action can be taken now to transform our homes, environments, communities, and cities to be more inclusive of people with various needs.