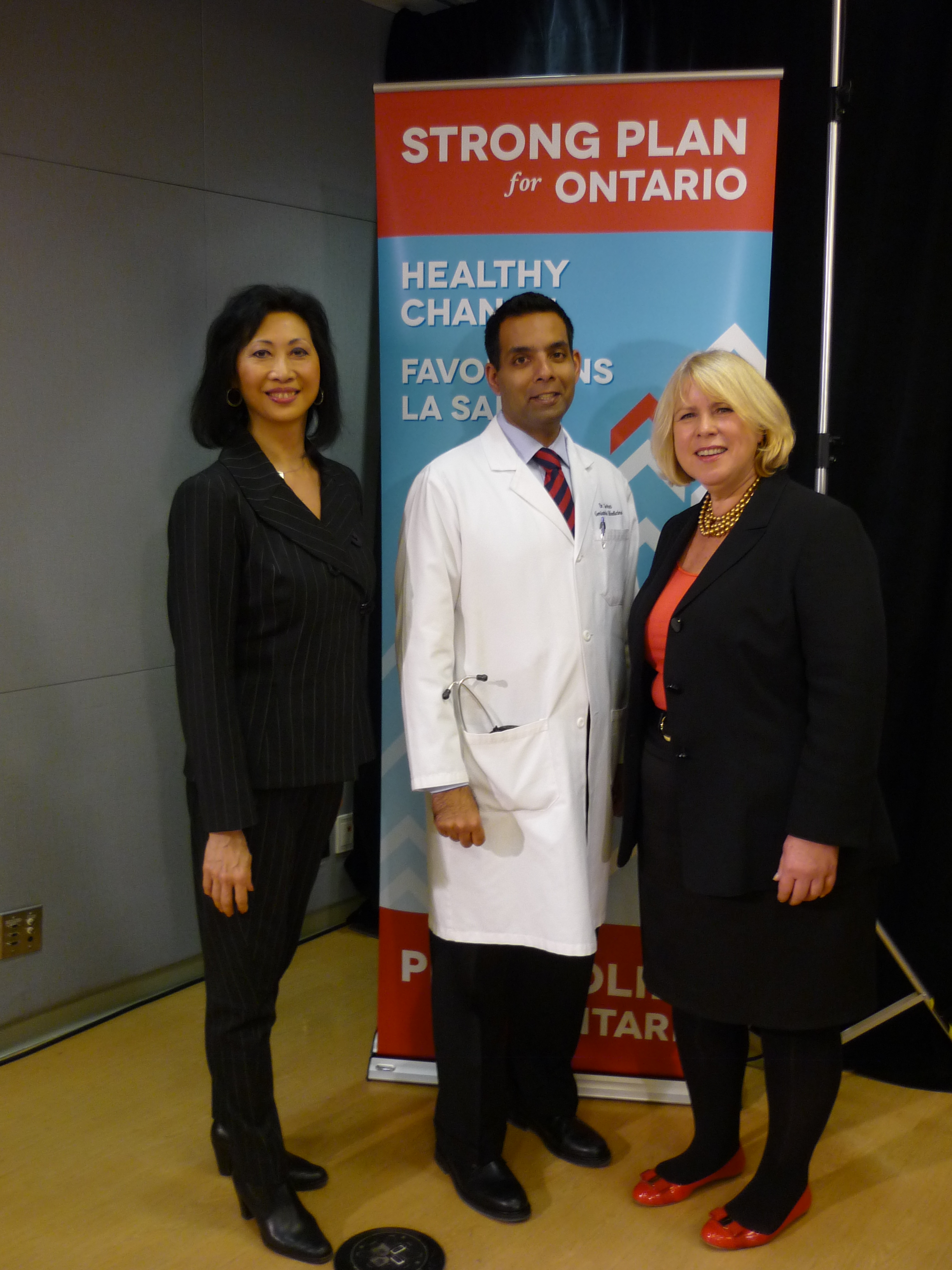 January 11, 2013 – Dr. Samir K. Sinha, Director, Geriatrics, Mount Sinai and the University Health Network Hospitals in Toronto released a report, Living Longer, Living Well, earlier this week, which consists of a comprehensive set of recommendations to inform the Ontario Government's Seniors Strategy. CARP's Susan Eng, VP of Advocacy, was invited to speak alongside Dr. Sinha and Minister Deb Matthews of Ministry of Health and Long Term Care at the media conference this past Tuesday January 8, 2013. Many of the recommendations respond to important issues to older Ontarians such as increasing care accessibility, strengthening primary care, and improving coordination across health providers, LHINs, and CCACs, all of which CARP welcomes and commends Dr. Sinha and Minister Matthews for their work.
CARP's One Patient position paper calls for an integrated continuum of care that ensures that patients can access to the care they need in a seamless and timely way, emphasizing the need for better coordination, primary care access, and other care supports such as home and community care. CARP called on government for health care reform and presented the One Patient paper to Dr. Sinha in the fall of 2012, when he was holding public consultations across the province as the expert lead in developing the Ontario's Seniors Strategy – and it appears that Dr. Sinha listened.
The recommendations of his reports are comprehensive. It addresses the full spectrum of issues both directly and indirectly related to senior's health, including the promotion of healthy aging, enhancing home and community care, medication interactions, caregiver programs, the unique needs of older Aboriginal People and people living in northern and rural communities and end of life care. CARP particularly welcomes the following recommendations as they respond directly to CARP's One Patient recommendations.
1.     Better coordination to support a more integrated continuum of care
CARP emphasized that patients need a health system that is integrated and well-coordinated so that patients are able to move seamlessly through the system as their needs change. Many of the recommendations in the report address this need to better communicate and coordinate. Recommendations include having Local Health Integration Networks (LHINs) develop collaborative relationships with their respective Municipal Councils and that the care coordinators from Community Care Access Centres (CCACs), Community Support Services (CSS), and Community Mental Health agencies communicate and coordinate with patient primary care providers. This creates great potential for patients to experience smoother transitions between different types and levels of care as well as receive the appropriate and timely care they need. With improved communication and promotion, patients and caregivers also could have increased awareness of available programs and services as well as have greater access to health promotion programs, classes, and information.
2.     Greater access and supports for primary care
Too many seniors are without primary care access and do not know where to get the care they need, so CARP called for a navigator to help patients better navigate the complex health system and saw primary care as one of the obvious choices. The report appeared to have seen this too. The recommendations encourage the Ministry to set the goal to insure that all older Ontarians who want a primary care provider will have one and to improve the provision of house calls by primary care providers. They also recommend that care coordinators from Community Care Access Centres (CCACs), Community Support Services (CSS), and Community Mental Health agencies communication and coordinate their care and services with the patient's primary care provider. There is also an emphasis that there should be a core focus around the care of older Ontarians, in which primary care focuses on the health and well-being of older adults.
Ideally, the system should be sufficiently reorganized so that a seamless continuum would be readily apparent and accessible by patients directly but until that is achieved, primary care providers and case manager will be necessary.
3.     Expanding community care and other care supports
CARP has advocated for more home and community care supports, which will not only reduce health spending but also help older Ontarians to live at home and in their communities for as long as possible. The report also recommends the expansion of home and community care as well as other supports that will help Ontarians to live at home. Such recommendations include improving collaboration and coordination between CCACs and CSS agencies, enhancing access to clinic based physiotherapy services, and working with other Ministries to encourage more Assisted Living and Supportive Housing Units. The report also sees opportunities for Long-Term Care (LTC) homes to serve as community hubs that provide community-oriented services.
4.     Prioritizing older adults and respecting their dignity
CARP has often advocated against ageism, including ageism within the health system. So, CARP welcomes the recommendations that training in geriatrics should be included in the core training programs of health professionals and coaching programs in hospitals. With a growing aging population, it is important that health professionals are trained to care for older Ontarians, whose needs are diverse and often complex. It was also encouraging to see strategies to address ageism and elder abuse, while also expanding ways to better equip older Ontarians to stay active and age healthy.
Implementation is already underway – CARP calls for more
There is further good news. The government is already implementing two key recommendations:
To match every older Ontarian, who wants a primary care provider, with one through Health links along with new physician incentives to care for high-needs patients
To improve access to home care by expanding personal support worker services through community support agencies for low-needs patients.
Although it may be government's pre-election strategy, immediate implementation is a win for everyone, and CARP urges the government to take action and implement more of the recommendations. This is no small issue for Ontarians. This past week, people's concerns regarding senior's health has flooded media, such as the issue of seniors being discharged from hospitals with nowhere to go, covered by CBC Radio's The Current. Ontarians have been waiting too long to see such changes for government prolonged.
Read more about CARP's news release and One Patient Paper.