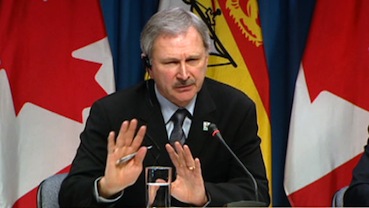 Editor's Note: On December 5th, 2012, CARP issued an open letter to Canada's Finance Ministers calling on them to fulfill their 2010 promise to enhance the CPP and to facilitate PRPPs and implement better safeguards.  Click here to get more background via CARP's news release.
Responses from the Provincial Finance Ministers are now starting to trickle in, we will post them as they continue to arrive. 
Ms. Susan Eng, VP Advocacy, CARP
Dear Ms. Eng:
Thank you for your correspondence regarding the Canadian Pension Plan (CPP) and Pooled Registered Pension Plans (PRPP).
As you are likely aware, federal and provincial finance ministers met recently at Meech Lake to discuss the important issue of retirement income adequacy.
At this meeting, ministers reaffirmed their support for PRPPs and agreed on the importance of a high degree of harmonization across jurisdictions.
In regards to the CPP, ministers acknowledged that given the fragility of the economy, there is no consensus on a CPP expansion at this time. Officials will continue work on defining "modest" expansion options and to identify possible triggers for an expansion.
In New Brunswick, the Minister of Justice and Attorney General is the lead on the PRPP file.  As such, I have forwarded your letter to the Honourable Marie-Claude Blais.
We appreciate your input in regards to this very important issue.
Yours truly,
Blaine Higgs
Minister of Finance