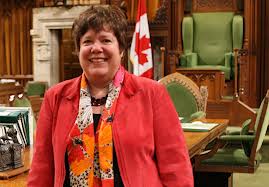 Dear CARP members,
I wanted to let you know about legislation I recently introduced in Parliament that addresses a critical public health issue in our country.
Did you know that Canadians currently consume 3,400mg of salt a day, twice the recommended daily recommended intake of salt?   Right now, we are facing an epidemic of sodium-related diseases, driven by the high salt content pre-packaged foods, which account for approximately 75% of our salt intake.  High salt diets can lead to hypertension and its associated conditions of heart disease, stroke and kidney disease and it's estimated that reducing salt consumption could save 10,000 – 16,000 lives annually in Canada.
That's why on November 5, 2012, I introduced my Private Members Bill C-460, An Act respecting the implementation of the sodium reduction strategy for Canada. I know that many Canadians work hard to make healthy choices, and believe that they should have the information they need to do this.  Bill C-460 will help by:
Ensuring the amount of salt in the Canadian food supply is reduced to safe levels;
Improving nutritional labeling on pre-packaged foods;
Protecting children from being deceived by commercial marketing for high salt foods.
I am writing to ask for your support for Bill C-460 and for your help in getting it passed through Parliament.  If you would like to support the bill, I would ask you to write or call your MP and ask them to support Bill C-460.
With support from Canadian health care organizations and Canadians like you, I believe we can make Bill C-460 law and take a giant step towards improving the health of Canadians.  If you would like to know more about the bill, please visit my website by clicking here.
Yours Sincerely,
Libby Davies, MP Vancouver East
NDP Spokesperson for Health