Wednesday February 13, 2013
The Ajax-Pickering Chapter of CARP  collaborating with the Central East Local Health Integration Network (CE LHIN) to provide a roundtable discussion on the new provincial seniors' strategy around the theme of "Community First."  James Meloche, CE LHIN's  Senior Director of Planning, was our guest speaker and he laid out the new Integrated Health Services Plan for 2013-2016 and implications for health care changes in our community.
This seminar was helpful in keeping our community  informed of the changes in priorities and allowed the participants to talk to our health care leaders, whether you were  a senior, caregiver or a 'sandwich generation' parent.  Victoria Van Hemert , Executive Director of Specialized Geriatric Services, was also in attendance to listen and learn from the community.
The group embraced the direction and focus of the CE LHIN and its parallels to the CARP One Patient brief.  The audience was a cross section of community members ranging from 25 to 84 years old and included many service providers who were also "sandwich" parents in providing care at home.
This was the first of a series of health care seminars that will include discussions with Rik Ganderton, CEO Rouge Valley Health System,  Brent Farr , Executive Director, Community Care Durham,  Don Ford, CEO CE CCAC and key experts, such as, Victoria Van Hemert (Regional Specialized Geriatrics) and some of our primary care physicians.   Our objective is to ensure community input to the design and implementation of services that are required to pull the system together into a manageable entity when required.
To see the full presentation, please click here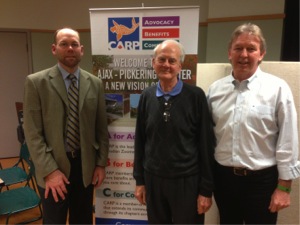 Integrated Health Service Plan 2013-2016
Across the province, Local Health Integration Networks (LHINs) are working with their local stakeholders on the development of their third Integrated Health Service Plans or IHSPs.  Here in the Central East LHIN, the 2013-16 IHSP will once again be the local road map guiding the activities and accountabilities of local health service providers leading to better health, better care and better value-for-money for the residents and health service providers in the Central East region.
On February 12, the Board of Directors for the CE LHIN, released the Strategic Aims for the 2013-16 IHSP. With an overall theme of "Community First – Help Central East LHIN residents spend more time in their homes and their communities", four aims have been developed:
Reduce the demand for long-term care so that seniors spend 320,000 more days at home in their communities by 2016.
Continue to improve the vascular health of residents so they spend 25,000 more days at home in their communities by 2016.
Strengthen the system of supports for people with Mental Health and Addictions issues so they spend 15,000 more days at home in their communities by 2016.
Increase the number of palliative patients who die at home by choice and spend 12,000 more days in their communities by 2016.
Developed with Central East LHIN planning partners, we believe these aims build on the planning, integration and system investments made during the timeline of the current 2010-13 IHSP.
Randy Filinski
Advocacy Chair
Ajax-Pickering CARP Chapter