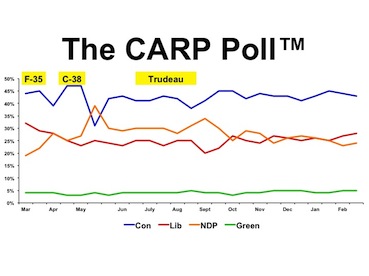 Refundable CARP Tax and Budget Poll Report
KEY FINDINGS
March 8, 2013: The majority of members are retired, married and receiving CPP and OAS. Few of those young enough to contribute to an RRSP will do so, and most of those old enough have an RRIF.
The retirement tax measures found most onerous are not being able to claim medical expenses and paying tax on minimum RRIF withdrawals, along with the disadvantage suffered by single seniors compared to income-splitters.
Fewer find the lack of a caregiver tax credit or the OAS income clawback as very onerous, but a significant minority would benefit from more caregiver support. The plurality want to see an end to the minimum RRIF withdrawal, while about half as many want a lower minimum or a commensurate increase in TFSA contribution room.
Solutions for senior poverty include enhancing OAS and GIS for either low income or all seniors and increasing the income threshold for GIS. Solutions to raising the age for OAS centre on repealing the change, or funding seniors between 65 and 67 the difference, either directly for political credit, or through the provinces. Best solutions to CPP and PRPPs are seen to be either a significant or more modest enhancement to contributions and benefits or a voluntary CPP supplement.
Members are equally likely to favourably view a national pharmacare program with either first dollar or co-pay coverage for either all or low income seniors and other groups. Few see no need for national pharmacare. It is expected this program will be paid for either from general revenues or through a compulsory public insurance scheme similar to CPP. Members agree any savings is worth the effort required for provincial bulk drug purchasing, and those who specify a number think between $500 million and $1 billion will be saved.
The Conservatives dominate members' political preference, with the Liberals in an increasingly solid second place, followed by the NDP in third.
To view the full report complete with charts and graphs, please click here
TCPTG12345