Information posted March 8, 2013
The following is a recent news release issued by Mississauga Halton LHIN.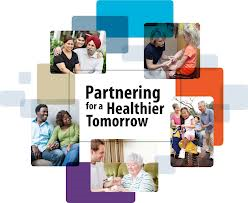 Partnering for a Healthier Tomorrow Mississauga Halton LHIN's Integrated Health Service Plan 2013- 2016 .
The Mississauga Halton Local Health Integration Network (LHIN) has released their new Integrated Health Service Plan (IHSP) 2013-2016, Partnering for a Healthier Tomorrow, a strategic plan to support the specific health care needs of the people in their community.
The recent completion of this strategic plan was made possible through the insight and participation of over 1,700 people from the Mississauga Halton community – consumers, caregivers, health service providers, cross-sector partners and the community at large. It serves as a shared roadmap for the delivery of health care services, built on the foundation of the voices of the people that it serves. In alignment with provincial health priorities and based on feedback received from the community as well as an environmental scan, the IHSP identifies the priorities and helps guide the activities of the LHIN and the health service providers it funds.
"We focused on the person – you and me, the patient, the consumer, the caregiver and family member – as a partner at the centre of all that we do because the plan is for all of us. We must build a better health care system so we can meet the current and future needs of our local community," said Director, Health System Development & Community Engagement Liane Fernandes of the Mississauga Halton LHIN.
Five key priorities have been identified within the IHSP, with specific goals under each priority: Accessible and Sustainable Health Care, Enhanced Community Capacity, Family Health Care When You Need It, Optimal Health – Mental and Physical, and High Quality Person-Centred Care. The Mississauga Halton LHIN will use these five priorities as a guide over the next three years to achieve a local vision of a seamless health system for their communities.
"The needs of our community are unique and we need to be flexible and innovative to improve the patient experience. The IHSP in conjunction with our Annual Business Plan will support us in implementing local solutions to promote the optimal health of our community, deliver high quality care when and where needed and streamline our health care system so that it is sustainable," said BoardChair Graeme Goebelle of the Mississauga Halton LHIN.
The Mississauga Halton LHIN continues to support and work together with the community and health care providers to deliver the best care for patients by partnering for a healthier tomorrow.
To read more about the Mississauga Halton LHIN and the Integrated Health Service Plan 2013-2016 please CLICK HERE.