Information posted March 15, 2013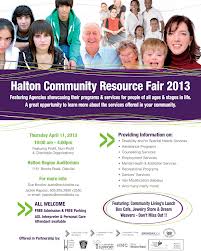 The Halton Community Resource Fair will feature profit, non-profit and charitable organizations and agencies showcasing their programs & services for people of all ages & stages in life. This is a great opportunity to learn more about the services offered in y our community.
The Resource Fair will be held on Thursday April 11, 2013 10:00 am – 4:00pm in the Auditorium at the Halton Region Centre, 1151 Bronte Road, Oakville.
There will be information on:
• Disability and/or Special Needs Services
• Assistance Programs
• Counselling Services
• Employment Services
• Mental Health & Addiction Services
• Recreational Programs • Seniors' Services
• Van Modification displays
• And many many more!
Admission is FREE and there is FREE parking.
For more information please contact:
Sue Brooks: [email protected]
or Jackie Raposo: 905.855.2690 x2550, email: [email protected]
To read the poster announcing this event please click  Halton Community Resource Fair