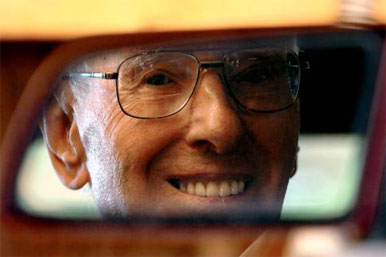 The time has come for an "older driver vehicle," according to investigators at the University of Michigan's Transportation Research Institute. But don't expect it to be made and marketed for seniors the way minivans are for parents.
There is enormous looming demand for a car that can help overcome age-related deficits. In the next two decades, the number of Canadians older than 65 will more than double, to 10.4 million. However, researchers recognize that baby boomers aren't about to buy the automotive equivalent of prune juice. Ergo, improving older drivers' safety and comfort, without sacrificing their youthful self-image, is expected to be a key challenge for manufacturers.
This article was published by The Province on March 24th, 2013.  To see this article and other related articles on The Province website, please click here

David Eby, head of the behavioural sciences group at UMTRI, says he expects boomers will be eased into new waters, as opposed to being pushed right into the deep end.
"It's possible that someone might design a car (for older adults) from the ground up. More likely, these things will be gradually implemented into cars until, 10 years in the future, we have a car that has most of the features we're talking about," said Eby, a research professor.
By 2051, demographers project that one in four Canadians will be in their golden years – but not necessarily surrendering their car keys. In the U.S., for example, more than nine in 10 men, and eight in 10 women, over age 65 hold a driver's licence.
In a recent research paper, Eby and colleague Lisa Molnar unpack some of the main challenges, which span everything from comfort to crashworthiness. They say concerns are fuelled by declines in psychomotor functioning (such as decreased reaction time, muscle strength and flexibility) and visual capability.
"There's the potential to design vehicles that help people with those various types of declines, so they can not only continue to drive but also drive more safely," said Eby. "For example, safety belts are designed to spread the forces of a crash across the body, and you'd want to spread them differently depending on the structure of the (driver's) ribcage and other bones."
To wit, in a large-scale study published in 2011 in the Canadian Medical Association Journal, the incidence of frailty in Canada was two per cent for people under 30, 22 per cent for those 65 and older, and 44 per cent for those 85 and older.
Traffic injury research, meanwhile, shows seniors account for the second-highest proportion of road deaths, behind only 15- to 24-year-olds. Based on kilometres driven, they have more collisions than any other age group.
Eby and Molnar suggest improvements in ingress and egress, seating, visibility, cargo-area access, dashboard design and on-board technology could all be helpful. But they caution that a car made with seniors in mind would likely need to be marketed based on life circumstances or milestones as opposed to age – a notion with which Canadian researcher Brenda Vrkljan agrees.
"Unfortunately, in society, stigma and stereotypes trump the need for this (type of car)," said Vrkljan, a PhD and associate professor of occupational therapy at McMaster University.
Through focus group studies and empirical research, Vrkljan has identified a clear need not only for age-related adaptations on the driver's side but also on that of the passenger, noting that many seniors have elder "co-pilots." She also observes that driving is vital to older adults' continued sense of freedom and independence, particularly in the latter years.
"I've been involved with cases where people who lost their licence said, 'If I had to draw a colour on the calendar, I'd draw that date as all black.' They're devastated. They compare it being worse than a cancer diagnosis," said Vrkljan. "To keep people in their homes as long as possible – and that's what we want – transportation is critical."
BMW, General Motors, Mercedes and Toyota have all been experimenting with autonomous or semi-autonomous vehicles that use intelligent systems to eliminate or reduce driver input (think of a less futuristic version of Google's driverless car and you get the idea).
Later this year at Ford, researchers will use motion-capture technology to precisely identify the ways in which seniors interact with their vehicle – a process that could guide future design for the aging population.
"It's the same technology the movie industry uses – like in Avatar," said Nancy Wang, technical leader in research and advanced engineering. "We've already studied the 22-to-upper-50s age group, which will give us a baseline. Now when we look at older people, we can see the differences and understand their specific needs."
Holly Tuokko is co-leader of a Candrive project investigating older drivers' perceptions of their driving abilities, confidence and motivations on driving-related decisions. She notes that many Canadians take for granted how complex it is to operate a vehicle.
"You have to use your vision, your motor function in many parts of the body; you need to plan where you're going and remember the rules of the road; and in a changing motor environment, there are new rules all the time, as well as higher density (traffic) – and decisions need to be made quickly," said Tuokko, director of the Centre on Aging at the University of Victoria.
Across the board, researchers emphasize that it's the medical conditions linked to aging – not necessarily age itself – that dictate driving ability. A 2010 report on Canada's aging population found 21 per cent of seniors 80 and older had at least four chronic diseases (e.g.: diabetes, arthritis, etc.).
Auto-braking, blind-spot alerts, rear-facing cameras, heated seats with lumbar support, larger instrument panels and night-vision technology are among the proposed automotive aids, though the industry has yet to come up with a total-package response akin to minivans for families.
"It's become more of a salient issue for producers and manufacturers," said UMTRI's Molnar, a lead research associate. "But it wouldn't make sense to market it as an older driver vehicle. That's just not going to sell."