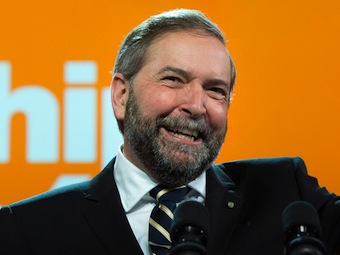 April 14th, 2013: The NDP  just wrapped up its National Convention in Montreal held at the majestic Palais du Congres.  In his Leader's speech, Thomas Mulcair made references to universal quality public healthcare,  poverty among seniors and to the OAS changes, saying:
"Mr. Harper, you had no problem making that annoucement in Davos, Switzerland, in a room filled with billionaires.  Why don't you go say the same thing in Timmins or in Sudbury? Try telling hard-rock miners that they have to work two years longer before they retire!"
Some 2, 000 delegates voted on a number of policy issues and of particular interest to CARP members will be the Resolution on Seniors and Retirees which was passed.   The motion reads as follows:
3-03-13 Resolution on Seniors and Retirees
WHEREAS many seniors in Canada continue to live in poverty; and
WHEREAS every Canadian should have a right to retire in dignity; and
WHEREAS raising age eligibility limits unfairly penalizes the working poor and disabled:
THEREFORE BE IT RESOLVED that Section 3.7.a of the policy book be amended to read:
a. Maintaining the universality of Old Age Security (OAS) and increasing funding for the Guaranteed Income Supplement (GIS) with eligibility set at age 65.
For more information on the NDP's National Convention you can visit the convention website where videos and speeches are also available on demand.