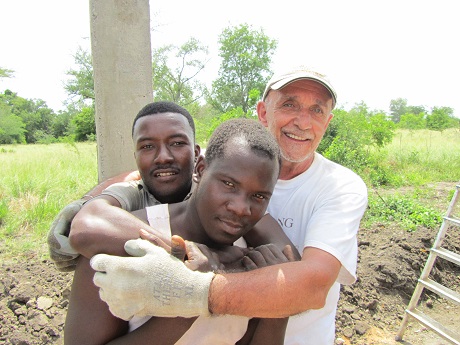 Wayne McRann is somewhat typical of his age group when it comes to the number of career changes; however, his last career move is anything but typical.  At the age of 55, after working a decade and a half in the mining industry and then over 20 years as a successful small businessman serving the retail store and warehousing sectors, Wayne decided to follow his passion for helping others by founding Developing World Connections, a Canadian charity that provides volunteer opportunities in the developing world.
"The purpose was twofold: to conduct sustainable projects that provide hope for a better life for some of the world's poorest citizens and, to provide opportunity for those of us in the developed world to participate, through international service, in meeting those needs," says Wayne about his non-profit organization that is based in Kamloops, BC. 
Wayne was introduced to the ideal of international service through his Rotary club when, the year prior to becoming club president, he and two other Rotarians travelled to Guatemala to evaluate potential projects for their club's involvement.  On a subsequent trip, Wayne travelled to a small village in the northern highlands that had been almost entirely destroyed by Hurricane Mitch. There, he met Edmundo, the village chief, and his family, including Edmundo's seven year old daughter, Maria.  "When I first saw beautiful, vibrant little Maria, she was asleep in the mud of the living room floor of their partially destroyed 400 square foot home," McRann recalls. "She became my constant companion for my first stay in Nuevo Maravillas, always by my side, following me wherever I went."
A year later, Wayne was back in the village with eleven other Rotarians, and armed with a grant from Rotary clubs, Rotary International and the Canadian Rotary Committee for International Development, the group began work to rebuild all of the homes in the village. After a day of not seeing Maria, Wayne discovered via the help of a Rotarian doctor that she was very ill with probable tuberculosis.  At the end of the two week project, the group discussed the possibility of taking Maria with them to a tuberculosis sanitarium in the capital, but it was obvious she was too sick to travel.  By the time they reached their hotel several hours after leaving the village, Maria had died. Wayne was devastated by the news and resolved he would do whatever he could to support the well-being of children in the developing world.
During each of three annual trips to Guatemala, Wayne observed that he and his fellow Rotarians, while they were contributing to improving the lives of others, were also experiencing profound change in themselves.  They were gaining new understanding of the plight of those in the developing world, an enhanced belief that as global citizens they had some responsibility for change, and their compassion for others was activated in an entirely different way.  "Out of seeing the benefit to fellow Rotarians, came the idea for Developing World Connections, and a goal to introduce the ideals of Rotary service to others who did not have this same international volunteer opportunity," says Wayne.
After three years of contract work for B.C.'s Ministry for Children and Families, the concept of an international volunteer charity was revisited on another Rotary trip, assisting with polio eradication in India.  Most of his fellow Rotarians on the India trip agreed to assist, and in mid-2004, Developing World Connections became a reality. 
Not unlike with his small business experience, Wayne discovered the most difficult part of running a non-profit organization was going to be getting the word out about the service they offered.  Then on December 26th, 2004, opportunity came flooding in – quite literally. The giant tsunami hit South Asia and westerners' overwhelming desire to help resulted in Developing World Connections volunteer groups rebuilding homes in Sri Lanka by mid-February 2005. Over 29 houses and various community buildings were reconstructed as a result of these volunteers' efforts.
While the tsunami provided the first volunteer opportunity for Developing World Connections, Wayne intended his organization's work to be more than just disaster relief. His organization works with local in-country NGOs to support their sustainable, community-led projects that focus on reducing poverty on a local, grassroots level. "I wanted to make sure we were basing our work on sound development principles, not just operating the organizations as a volunteer tour company," states Wayne. After almost 70 years of traditional aid, assistance to the developing world is now changing rapidly from aid based to development based, a direction Wayne strongly supports.
Wayne also had another goal in mind when creating his organization: he wanted to offer international volunteer experiences to all people who want to participate, regardless of their background, age, or skill level. "Initially, more than half of our volunteers were high school or university aged," says Wayne, "whereas now we see more and more volunteers who are 45+. Today it's not unusual to have a group made up entirely of retired or semi-retired professionals who've done their beach time and are looking for a more meaningful adventure vacation." This shift in participant demographic means Wayne and his team have become more attuned to the needs of a more senior cadre of volunteers, ensuring that there is real meaningful work for all volunteers and comfortable standards are met for safety, security, food and accommodations. 
Eight years later and after over 2000 volunteers working on projects in thirteen countries worldwide, Wayne expresses that following his vision for creating a non-profit was the right career move for him.  "Many of the challenges have been similar to those of starting a new business while there are many others that I could never have expected," reflects Wayne. "This new career has provided greater benefits than I could ever have imagined. I have been provided with tremendous opportunities to learn and understand much more about my place in the global community."  For Wayne, the most meaningful part of his job is getting to see and hear about lives being positively changed as a result of Developing World Connections – both in the global south and at home in Canada.   
Now at 63 years old, Wayne does plan to slow down a bit, particularly reducing airport and airplane time, but he doesn't see full retirement looming for a number of years yet, if ever.  "I believe that Developing World Connections will continue to be successful for as long as there is a need, and I hope to always be involved in making it an ever greater organization," replies Wayne to the idea of retiring. "I often hear from other volunteers that the experience of being in a place where life style is much more basic provides a space for the mind to slow and clarity to emerge," he reflects. "For me, this clarity resulted in a new passion, one that I am forever fortunate for pursuing."
For more information about Developing World Connections and their short-term volunteer experiences available to you, please click here
Wayne is a CARP member and will be at the Developing World Connections' booth at the Toronto Zoomer Show on October 26th and 27th, 2013.