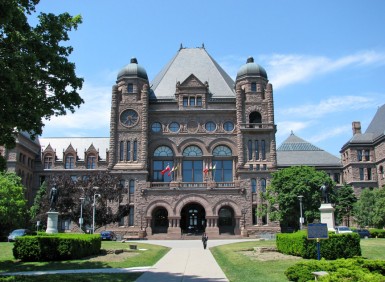 Before the provincial budget has been tabled, the organization CARP has released a wish list of issues they'd like to see addressed.
The document is called One Patient and the four main areas CARP would like to see improvement in include senior poverty, discrimination against older and aging Ontarians, equitable access to affordable drugs and retirement security.
This article was published by 570 News on May 2nd, 2013.  To see this article and other related articles on The Globe and Mail website, please click here
Susan Eng, Vice President of Advocacy for CARP spoke with 570′s Gary Doyle about their requests, and said it about fixing the system before it's broken, and making sure aging Ontarians and their families don't fall through the cracks.
"The average family who doesn't know how to navigate the system can't. And so there are gaps, people fall into those gaps."
"A little bit of money spent where it's needed, when it's needed to prevent what else could happen, what else could go wrong. It's that kind of thinking we're asking of the province. To say look, stop for a minute, and imagine if this was your mother, because we're all going to get there."
Eng jokes "It's a little known fact but we're all aging."
She says the province needs to keep up and change their way of thinking when it comes to the aging population.
"It's not that we're not spending enough money. All of the different silos are demanding their part of money. The trouble is no money is being spent to help us navigate through all of those processes and making sure that they communicate with each other… all we need is a little bit of forethought so we don't fall between the cracks.
Eng adds baby boomers are demanding the best treatments, which has driven up the cost of healthcare, but says the generation is also one that is willing to take care of themselves.
"This is also the generation that wants to take more charge of our own health. So if you tell me I can do this and I have to make certain sacrifices in order to accommodate getting care at home instead of in a hospital or in a nursing home.. well, I'll do it. I'll pull together the resources to make that happen. So work with us."
Eng does credit the government with several advances they have already announced, such as moving chronic care out of institutions and into the community, as well as having homecare at a person's house within five days.
She says she hopes these initiatives will be re-announced and not forgotten.
© 570 News