Brampton's CARP Chapter Launch Gala was the event to be at this past Tuesday, May 7th at the Brampton Soccer Centre. With Moses Znaimer, CARP President, as the keynote, there was no doubt why the robust room was packed- making this the largest inaugural Chapter opening in CARP's history. Over 450 older adults came to celebrate the birth of their new chapter and were anxious to get involved (Click here for Brampton CARP Website).
The impressive attendance indicated that a CARP Chapter in Brampton was long overdue. Peter Howarth, Brampton Chapter Chair, introduced the evening with great enthusiasm expressing it was time for his city "to establish [their] own identity." Howarth got straight down to business and shared a long list of important agenda items welcoming and challenging attendees to join his Chapter committee in varying capacities, including, but not limited to politics, advocacy and social gatherings.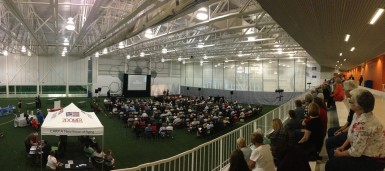 Among the attendees, Bill, a pioneer of Brampton, was especially thrilled about the new chapter. Upon arrival, he raced over to the CARP sign up tent and committed to a 2 year membership. The 87-year-old CARP member was born and raised in Brampton and has seen his community grow and become more diverse.
After Moses' presentation, he invited CARP's very own Susan Eng, VP Advocacy and Ross Mayot, VP & General Manager to participate in his Q & A period. They reflected on current trends and issues impacting Canada's aging population and talked about the importance of having 56 CARP Chapters coast to coast.
Susan spoke about the urgent need to enhance CPP and improve PRPPs (Read more here) and provided updates related to the healthcare system and the situation of older workers. Ross covered community-related questions and voiced that Brampton was a contemporary model of a Canadian city honoring and celebrating diversity. He shared his confidence with the crowd that the Brampton CARP Chapter would reflect the face of their community in their future endeavours.
Moving forward, Peter Howarth, Terry Miller and Cec Bechamp will represent Brampton's CARP Chapter.
CARP National congratulates the Brampton Chapter and are hopeful that positive social change will ensue as we look ahead towards a New Vision of Aging.