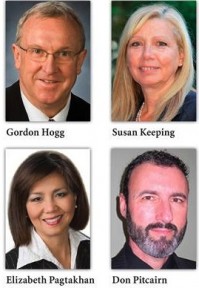 Despite summer-like weather and a Canucks game airing at the same time, about 200 people packed into White Rock's Star of the Sea Hall Friday night for the provincial Surrey-White Rock all-candidates debate.
Hosted by the South Surrey & White Rock Chamber of Commerce and the White Rock chapter of CARP, Canada's Association for the Fifty-Plus, the event drew a crowd consisting of mostly older residents.
Liberal MLA and incumbent Gordon Hogg was present, as was NDP candidate Susan Keeping. Representing the B.C. Green Party was Don Pitcairn; however, B.C. Conservative candidate Elizabeth Pagtakhan was unable to attend.

This article was published by The Now Newspaper on May 6th, 2013.  To see this article and other related articles on The Now Newspaper website, please click here

But while the provincial party leaders may have taken shots at each other during the televised leaders' debate earlier in the week, their local counterparts abstained from verbal attacks, instead choosing to discuss the issues in a more civil manner.
Concerns raised were senior care, transit and health care, reflecting what the mostly older audience members felt were key issues for the riding.
For Pitcairn and the Greens, health care should be more about preventative measures rather than addressing issues once people have taken ill.
"We don't care for health, we care for people who are sick," he said. "We need to put more revenue in keeping people healthy and avoiding cancerous chemicals and pesticides. We need to look at keeping people healthy, mobile and out of hospitals and living a nice, long healthy life because when you end up in hospital, it's never a good thing."
Also brought up was the proposed coal expansion at the Fraser Surrey Docks, which would see an increase of up to four times as much coal train traffic through White Rock if approved.
To that, Hogg said that while it was as federal issue, he's in favour of local communities having more of a say on the matter.
"I participated in a rally in respect to this at the beach," said Hogg. "It is a federal issue so we're trying to manage that."
However, Hogg pointed to many questions being left unanswered, such as a monitoring system for potential coal dust, the effectiveness of protective covering and even the stability of some of the rail beds.
"None of them have been answered and we have not been consulted with respect to this and we deserve to be," he said.
The failed South Surrey casino proposal was also revisited, during which candidates were asked about their parties' stances on gaming in B.C.
According to Keeping, the NDP would look into creating an independent body to watch over provincial gaming, citing governments being too close to the issue to make unbiased decisions.
"We need an independent oversight body to look over gambling anywhere in B.C.," said Keeping.
"As we saw in the proposal, it can be really hard for a municipality to really look at that with an independent eye because the dollars they were hoping to gain would be more than hard to say no to. Having an independent body overview gaming is important."