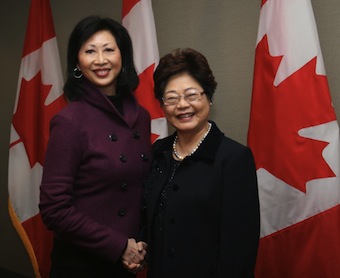 Dear CARP members,
One of the things I have heard often in my many discussions with Canadians from all over the country is their difficulty, and even confusion, understanding and accessing the information they need about government programs and services.  The truth is, it is complex; with different levels of government responsible for different programs, not to mention the important work done in the not-for-profit sector in our local communities.
I am very pleased to let you know about a new resource, for seniors and near-seniors like yourself, that provides access to much needed information.
Seniors.gc.ca has been re-developed to be a central resource of information on government services, programs and benefits for seniors, their families, caregivers and supporting service organizations.  The website, through the Information for Seniors portal, provides an interactive map which pulls together information for seniors from every level of government in a user-friendly way.
With Information for Seniors it only takes a few clicks of the map, for users to get information specific to their province, and in some cases, municipality as well as relevant federal programs and services.  Where available, Information for Seniors also directly links to 2-1-1, a multilingual service provided by United Way Centraide which provides information on government and community based health and social services by phone or internet 24 hours a day, 7 days a week.
Sincerely,
The Honourable Alice Wong, P.C., M.P.
Minister of State for Seniors
Additional Reading