CARP has been pushing for a set of amendments to the Fire Code that would see older retirement homes mandated to install sprinkler systems and beef up their fire safety measures.  In a press release issued May 10th, 2013 – the Ministry of Safety and Correctional Services announced that timelines for implementation.  Currently, the fire code requires only requires nursing homes and retirement homes built after 1997 to meet the code's fire safety requirements, leaving too many with inadequate protection.
The implementation of the new regulations will put an end to an untenable situation.  Before these new rules, sprinkler devices were not required in 4,000 older "care occupancies." These facilities house more than 200,000 seniors and other vulnerable Ontarians, including residents who are intellectually challenged.  According to the province's fire chiefs, Ontario seniors homes have the worst fire fatality record North America – about 45 since 1980.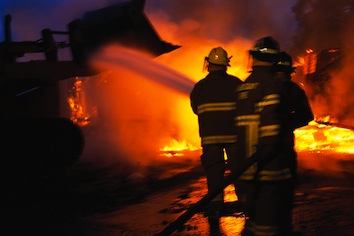 Important Dates and New Information
Regulation 150/3 which will introduce the long-awaited amendments to the Fire Code will come into Force on January 1st, 2014.
Some elements of the regulation will take effect immediately on January 1, 2014, and others will have a phased implementation ranging from 2 months to 5 years from the in force date for care occupancies and retirement homes regulated under the Retirement Homes Act, 2010, and up to 11 years for certain care and treatment occupancies.
Funding for Implementation of the new Regulation

Ontario Seniors Minister Linda Jeffrey and Health Minister Deb Matthews announced that the Government of Ontario would pump $20 million into seniors home in January 2013 while unfurling a larger action plan to provide Ontario seniors with better access to health care and improved safety.
The one-time injection of the $20 million fund is specifically earmarked for seniors homes across the province to install sprinkler systems. The plan also includes enhanced fire inspections and staff training.
Background Information on CARP's Fire Safety Advocacy in Ontario between 2009 and 2013
Deaths Could Have Been Prevented
CARP began campaigning for enhanced fire safety measures in 2009, the same year the coroner's inquest for another deadly fire at the Muskoka Heights Retirement Residence in 2009 identified the lack of sprinklers as one of the potential causes for these deadly fires.
In 2012 fires broke out at Hawkesbury's Place Mont-Roc home, killing two people, and a few months before that incident, another fire had devastated Timmins' Rainbow Suites retirement home.  The same year, a Toronto Star investigation revealed that many Ontario residents were at risk of death if a fire broke out because so many buildings did not have proper fire-suppressing equipment.
Ontario Government Announces the Expedition of Fire Safety Technical Consultations
On July 27th, 2012 – CARP attended the Ontario Government's announcement that it is expediting the fire safety technical consultations regarding nursing and retirement homes built prior to the implementation of the 1997 Fire Safety and Prevention Act.
The current situation was that Retirement Homes built after 1998 were required by law to have fire suppressing equipment like sprinklers but Retirement Homes built prior to 1997 were not.
The initial technical consultation was started in April 2012, led by the Office of the Fire Marshal, but the province had been under added pressure to ensure fire safety in older nursing and retirement homes.
Technical Advisory Committee Proposing Changes to Ontario Fire Code and Building Code – Consultations Process
CARP made it clear that requiring sprinkler retrofits was only one part of a comprehensive fire safety strategy.  The Government of Ontario and CARP both endorsed this approach.
On February 28th, 2013 – CARP issued a response to the Technical Advisory Committee (TAC)'s Recommendations to the Ministry of Community Safety & Correctional Services  regarding proposed changes to Ontario's Fire Code and Building Code and other actions to improve fire safety in residences for seniors, people with disabilities and other vulnerable Ontarians.  CARP issued a response in support of the TAC's work and recommendations urging the Ministry of Community Safety and Correctional Services to quickly implement and adopt the TAC's Recommendations.
 Recommended Reading