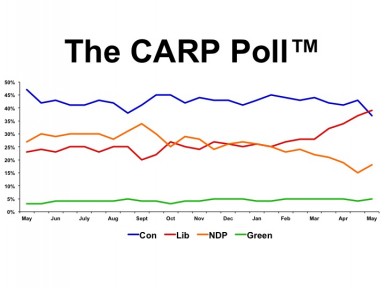 KEY FINDINGS
May 17, 2013: For the first time since CARP began polling its members (in October, 2008), the Liberals lead the Conservatives in voter preference, while the NDP has sunk to far third place. This is significant, in that it marks the culmination of a trend which began last fall, and the CARP membership has always previously preferred the Conservatives to the Liberals by about two to one.­
CARP members take, on average, more than three prescription medications (including those who take none), most are prescribed by the same doctor and all are purchased at the same pharmacy.
This is important, because members agree that medicine reviews by pharmacists when scrips are being filled are the best way to avoid drug interactions. Members also believe pharmacists are the best source of information on drug interactions, rather than doctors. Pharmacists are generally seen to be the first line of defense against drug complications.
While members mostly accept their doctor's recommendations on medications, almost all also research their medications themselves. Half have had, or know someone who has had a drug interaction, most likely dizziness/balance or GI problems.
Virtually all members have been vaccinated as adults, mostly for flu and shingles. Few of those vaccinated for flu subsequently caught it. Vaccines are seen to be best taken at doctors' offices and pharmacies.
Members do not assume drugs are tested in Canada for their effects on seniors, but they agree they should be. One half thinks drug interactions in Canada are common. Many members take naturopathic drugs, but few take them exclusively, just as few take no medications at all.
Ontario members find the recent budget to be an election document packed with targeted goodies designed to appease the NDP. However, they agree the new funding and wait times for home care are a good thing, and that wait times for initial assessment will come next.
TCPTG12345