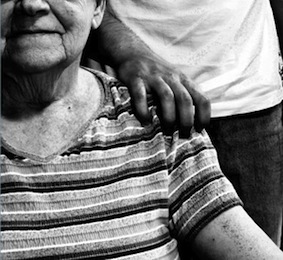 After the release of shocking video of an elderly woman with dementia being subjected to abuse and humiliation at a southern Ontario long-term care facility, many are saying the incident is far from isolated.
Four employees at St. Joseph's at Fleming long-term care home in Peterborough, Ont. have been suspended after Camille Parent, the son of a resident there, brought hidden camera footage to media outlets Thursday showing his 85-year-old mother Hellen being repeatedly mistreated.
This article was published by CTV News on May 21st, 2013.  To see this article and other related articles on CTV News website, please click here
The footage showed a worker taunting Hellen with rags smeared with her feces; another worker repeatedly wrestling and hitting her; and another wiping his nose on her clean sheets.
The nursing home is now conducting an investigation into the incidents, while the provincial government has launched a probe of its own. Peterborough community police are also looking into whether criminal charges might need to be laid.
Montreal-based lawyer Jean-Pierre Menard has handled countless cases of abuse at nursing homes and long-term care facilities including a horrific case against the St-Charles Borromée hospital in Montreal.
A class action lawsuit detailing hundreds of cases of abuse at the facility was launched in 1999. But it wasn't until 2003, when family members secretly set up tape recorders to capture staff verbally and psychologically abusing residents, that action was finally taken.
That scandal made national headlines and public discussions about the conditions in Quebec nursing homes and may have contributed to the suicide death of the hospital's director.
Last month, the class action suit was finally settled, leading to the largest settlement of its kind in Canadian history. More than $7 million will be shared by hundreds of residents and the families of residents who have since died during the 13-year investigation.
The settlement is also unique in that it sets aside funds for foundations that are dedicated to educating seniors and patients about their rights.
Menard says he learned during his investigation that a single abusive act at one of these facilities is rarely an isolated incident, and that abuse often starts with small infringements of patients' rights and then escalates.
He advises patients and their families to denounce the early signs of improper behaviour.
"The zero tolerance policy means all management and employees have to take the side of the patient," he explains.
Adina Lebo, the chair of the Toronto chapter of the seniors' advocacy group CARP, says there are currently tens of thousands of Canadians living in nursing homes, and those numbers are only going to rise as baby boomers enter their old age.
She says if family members suspect abuse at their loved ones' care facilities, they need to report it to the home's administrator. But she concedes the process of investigation can be long.
"There's a question about red tape and how long would it have taken if this son had not gone to the media first to expose this," Lebo told CTV News Channel Monday.
Camille Parent has said he filed several complaints with the home and even went directly to officials at Ontario's Ministry of Health and Long-Term Care before he took the footage he recorded to a local TV news station.
Ontario's ombudsman André Marin weighed in on the story on Monday as well.
In a statement to CTV News, Marin said: "I encourage everyone to watch Camille parent's hidden camera video. His mother Hellen is depicted in what appears to be a long-term house of horror," he said.
He added: "What is shown in this video is so egregious, it falls into the criminal domain."
Marin also pointed out that he does not have the authority to monitor and investigate Ontario long-term care homes.
"Unfortunately, Ontario is the only province where the ombudsman is powerless to intervene."
CUPE Ontario (Canadian Union of Public Employees), the union that represents many workers at nursing homes, says many of the problems of abuse at long-term care facilities stem from underfunding and low staffing.
"Imagine how much better care would be and how much safer residents and staff would be if staffing levels were higher, and homes had enough funding so two staff work together during shifts," CUPE Ontario Secretary-Treasurer Candace Rennick said in a statement late last week.
There have been task forces and training in several provinces to try to prevent abuse at nursing homes, but Lebo says CARP believes the problem is that most provinces do not have watchdogs in place.
"The broader principle is simply that we do not have an independent oversight body — not the homes investigating themselves but an independent body," she said
©  CTV News