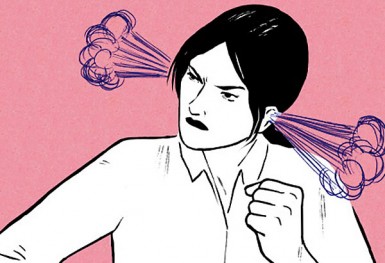 I just came back from attending the Canadian Pain Society's annual conference in Winnipeg.   I actually go every year to present some of my research work, hear about the research work of other colleagues and acquire new knowledge. Such conferences also provide me with an opportunity to meet with colleagues around the country and to network.
The night before the end of the conference, I sat down to a meal with a colleague of mine – a physician who has been looking after pain patients for quite long time.  She and I discussed our experiences at length and swapped stories that we found unusual or of unique interest.
Following that evening I feel compelled to share with you one of my colleague's recent encounters with a 38-year-old woman who had been hurt in the performance of her duties as a nurse and had developed a resulting chronic pain condition. Let's call my colleague Dr M and the patient RN.
RN walked into the doctor's office visibly upset and agitated. Dr. M asked her to explain exactly what the problem was. RN spoke loudly and fast, giving details about her workplace accident and making unflattering comments about her work supervisor and the care she received from her doctors.  After 10 minutes of incessant talking, RN finally took a pause and realized that Dr. M who had remained totally silent, was scribbling some vertical lines on her notepad.  The following exchanged ensued next:
RN: What are you doing Dr. M?
Dr. M: I am drawing a line every time you use a negative word such as pain, anger, upset, insensitive, not understanding etc. So far in these 10 minutes I marked 38 negative words.
RN: You must be kidding! I find this very rude.
Dr. M: 39!
RN: You certainly seem to be insensitive to my pain!
Dr. M: 40, 41!
RN. This is a joke. You seem to ridicule my pain. I think you are worse than all the other ignorant doctors I have seen so far.
Dr. M: 42, 43, 44, 45!
RN: Can you tell me why you are using this approach with me?
Dr. M: You are overloaded with negative and angry feelings. These can only feed and increase your pain. Have you talked to your family about how they feel when you always come across as being so angry and negative?
RN: Leave my family alone. They proved to be indifferent, insensitive, selfish and uncaring.anyway.
Dr. M: 46, 47, 48, 49!
RN: Enough! The next time you will hear from me will be when I file a complaint against you with the College of Physicians (RN storms out of the room)
Dr. M: 50!
I was amazed. In our line of work, we do see a few disgruntled patients who are always dissatisfied with our care; they are obnoxious, verbally abusive towards the physicians and their support staff (secretaries etc.), and always complain about the care we give them. This type of patient takes a real toll on us as physicians.  We have to deal with the emotional fallout that comes with the lengthy process of exonerating ourselves if our regulatory college comes after us when a complaint is filed.
I told my colleague I admired her and asked her how she had managed to get through the encounter? This was a definite recipe for disaster – and a complaint to the College of Physicians and Surgeons (the provincial body that grants our license to practice) was sure to follow!
Dr. M. nodded in agreement… "I was certain she was going to file a complaint but I just had to point out her constant negativity.  Regardless though, nothing happened for a couple of  months…"
Growing even more curious, I asked her if the RN had ever filed a complaint.
Dr. M. replied told me that not only had she not filed a complaint, she had in fact asked to see her again! She said that she wasn't happy because given the previous consult she anticipated the session might devolve into another shouting match.  Strangely enough though, that never happened.  She said that when contrarily to what she was expecting, a calm and composed woman walked into her office, sat down in the chair opposite her and greeted her with a smile.  She was stunned – when she recovered from her surprise she reciprocated the greeting and asked RN what had happened to cause such a change.
RN told her that when she stormed out of Dr. M's office a few weeks before, she had been extremely angry with Dr. M. for pointing out her negativity.  She went home and asked her husband and her kids to tell her frankly what they thought of her pain and of her moods.  She was surprised to hear that her husband and kids also found that she complained all the time and that she was angry and negative.
Dr. M. asked RN what she had done after speaking with her family.
RN explained that she started noting down all of the negative thoughts she had for every hour that she was awake.  Doing this for a few days made her realize that she could last no longer than 5 minutes before an angry thought or feeling welled up or came to mind, which she then had to write down.  She was disgusted with herself.   She had become very aware of her negative feelings and was now ready to ask Dr. M. for help, so that she might be able to harness her thoughts and perhaps control her pain somehow.
Long story short, Dr. M. worked with RN on her pain medications and to set objectives and targets for therapy and her recovery. RN responded well to structured goals and also joined a Mindfulness Based Stress Reduction program, to learn to relax. Today, she has returned part time to work on modified duties and works towards  her goal to return to full time nursing duties soon.
The story is very didactic and I use it to talk to other pain patients regarding  negative feelings and thoughts.  If one learns to control and curtail negative thoughts, pain perception will certainly decrease substantially. Trained professionals, such as pain physicians, psychologists, social workers etc, can do a great deal to help those who suffer with chronic pain to navigate the sea of negative emotions and restore emotional balance.
Angela Mailis Gagnon, MD, MSc, FRCPC(PhysMed) (Paper #62)
Director, Comprehensive Pain Program,
Senior Investigator, Krembil Neuroscience Centre
Toronto Western Hospital,
Chair ACTION Ontario www.actionontario.ca