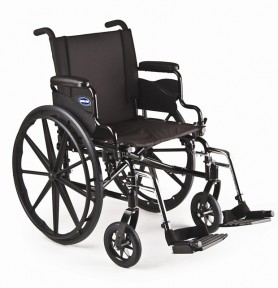 But Fraser Health says $25 fee will ensure higher quality chairs for care facility residents
A plan by Fraser Health to charge seniors a $25 for use of donated wheelchairs has senior advocates crying foul.
The plan, brought to light Thursday by Delta South MLA Vick Huntington, would mean seniors making free use of chairs that have been provided by donors would now be charged a monthly $25 "maintenance fee." The fee would not be applicable to those who rent a wheelchair or those who own their own.
This article was published by The National Post on June 7th, 2013.  To see this article and other related articles on The Globe and Mail website, please click here
According to Fraser Health spokesperson Tasleem Juma, the fee will be introduced Sept. 1 at Fraser Health care facilities and will be used for maintenance on the chairs used by those who cannot otherwise afford to purchase or rent one for themselves.
"Those costs can range from $1,000 to $3,500 for a wheelchair to purchase, and rentals can go anywhere from $70 to $100 a month," said Juma. "So where available, we do have wheelchairs that have been donated either through facility donations or auxiliaries, these are lent to residents.
"Under new provincial policy, we are now going to be charging a $25 fee and that's to maintain that wheelchair – stuff like replacing the cushion, maintenance on the wheels – that fee would then go towards maintaining the wheelchairs already available as well as towards purchasing new wheelchairs."
There are eight residential care homes operated by Fraser Health in South Surrey and White Rock and 19 overall in Surrey. According to Juma, about 60 per cent of residents in Fraser Health's facilities borrow wheelchairs.
However, according to April Lewis, head of the B.C. chapter of seniors advocacy group CARP, the fee is just another cost for an already struggling demographic.
"CARP has been advocating now for years trying to end senior poverty and this doesn't serve to help those on a fixed income," said the White Rock-based Lewis.
Referring to a recent report that showed three out of every five females over 65 in the GVRD live in poverty, Lewis said this isn't going to help the current situation.
"We both know that British Columbia is the most expensive province to live in with the highest consumer debt and with this fee it's just more punitive towards our most vulnerable citizens," said Lewis. "To me this is egregious and unacceptable and CARP is opposed to this."
Juma was quick to note that those who might have difficulty making the $25 a month payment can still apply for a hardship waiver, meaning they could continue to use Fraser Health's wheelchair free of charge.
"So residents who do receive MSP premium assistance or a person with disability benefits can then apply for an exemption of a fee," said Juma.
When asked why the fee was being introduced, Juma said following a policy change by the Ministry of Health last October, care providers like Fraser Health and Vancouver Coastal are now able to charge fees for personal use items that were previously exempt. In doing so, Juma said seniors would be able to enjoy better-working chairs.
"Our intention is not to cause hardship in any way, shape, or form for our residents," she said. "Our intention is to continue to be providing a service we have been providing but we have to maintain those chairs and make sure those wheelchairs remain in good working order."