Information posted July 8, 2013
"A smashing success" aptly describes our 20th Anniversary celebrations as  over 300 people joined us. We had almost 30 sponsors with displays and information about the services they offer, a marvellous selection of food which was provided by Chartwell Classic Retirement Residence of Oakville, a terrific concert and an abundance of draw prizes to end the evening.
Halton Chapter extends a sincere thank you to all of our sponsors and to everyone who made the evening such a big success.
Despite the initial disappointment of the late withdrawal of our headline performer, Peter Appleyard, due to serious health problems his highly recommended replacement group of musicians and vocalist more that filled the void. Once they began they had everyone's toes tapping and joining in with their excellent repertoire of music and song. That they received a standing ovation as their performance came to an end is testament to a thoroughly enjoyable evening of camaraderie and musical entertainment.
The Crossroads Centre in Burlington was an excellent venue for our celebration.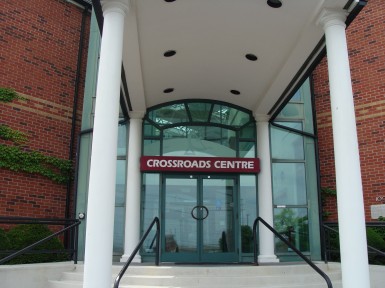 The CARP flag flying proudly outside offers a warm welcomes to our members and guests: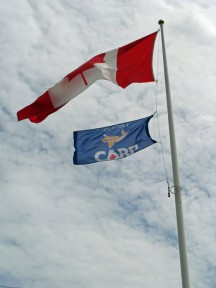 An early evening start enabled guests to chat with our many sponsors many of whom are shown below visiting the displays: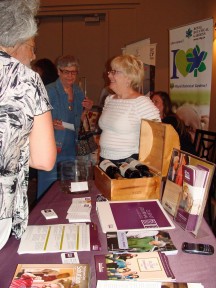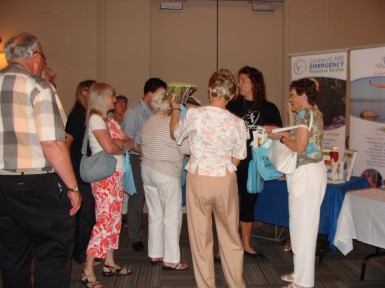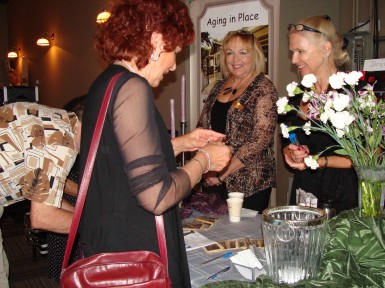 We were pleased to welcome guests Rob Burton, Mayor of Oakville who is seen below chatting with Chartwell General Manager Mike Murray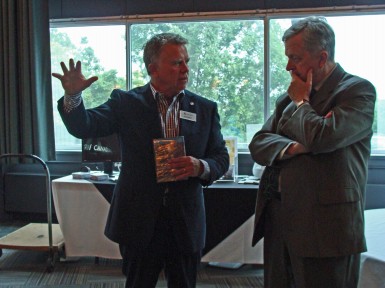 and Halton Region Chair Gary Carr who is seen below enjoying a conversation with our guests.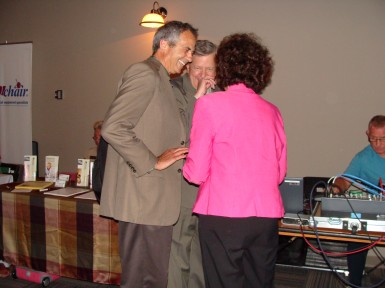 With Chartwell Classic Retirement Residence of Oakville supplying the food we knew there would be memorable celebratory refreshments;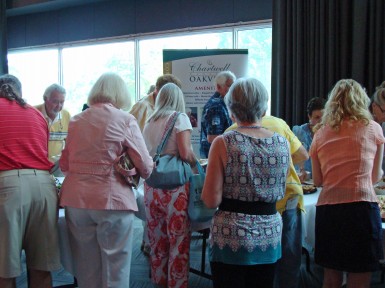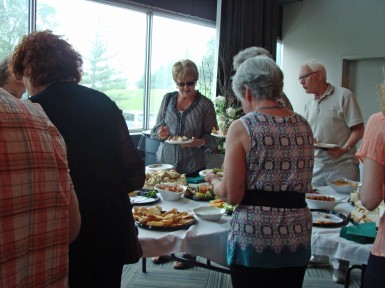 On behalf of our Chapter and our many guests a big thank you to Chartwell for such a delicious spread…..and the team responsible for it all is shown below….shown from L to R are Sales Consultant Melissa Thomas, General Manager Mike Murray, Chef Anna Zdzieblowski and her assistant Mila.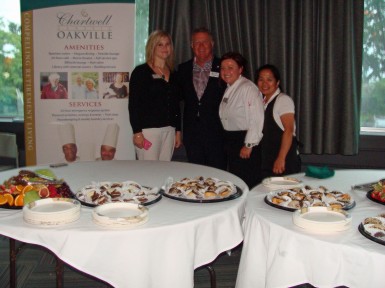 Altogether an excellent and high quality feast.
With over 300 guests well fed and seated…..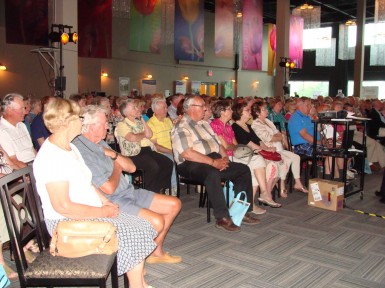 …it was time to begin the more formal part of the evening.
Halton Region Chair Gary Carr opened the proceedings and recognized the significant role that CARP Halton Chapter plays in advocating for seniors on a number of important committees and initiatives across Halton Region. He congratulated us on reaching our 20th anniversary and encouraged us to continue our efforts for many years to come.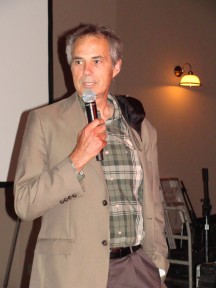 With that Halton Chapter Chair Tom Carrothers welcomed everyone. Prior to our celebration CARP President Moses Znaimer presented Halton Chapter with a Commemorative Plaque.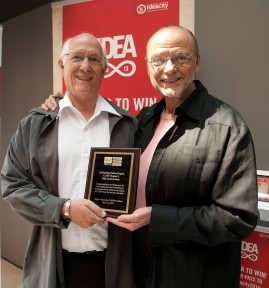 Tom read the inscription:
Celebrating Halton Region CARP Chapter's 20th Anniversary
"Congratulations and thank you for your dedication and commitment in support of the mission and values of CARP over the last two decades".
 Moses Znaimer,  CARP President , June 25 2013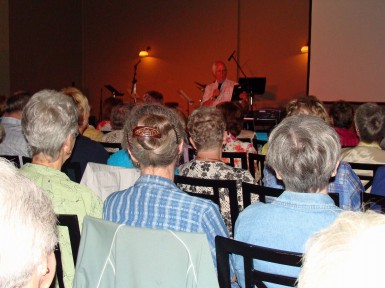 ….. and then called upon Hugh Cass, who has been a chapter volunteer for many years, including chapter chair, to provide a brief history of our chapter.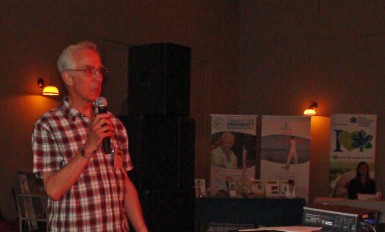 And that brought us to our featured concert.
Peter Appleyard offered his sincere apologies for being unable to attend with the following message which was read by pianist John Sherwood:
"My dearest musical friends and fans. I'm sorry I can't be there to both perform, and enjoy what I know will be a fantastic musical concert. I experienced some extreme lower back pain recently and am now under doctor's orders. I have to take a break from performing for a few months, but look forward to seeing you again at another concert in the future.
You have before you tonight my favourite, and without a doubt, the finest musicians I have ever worked with. When I'm asked to pick any musician from guitar to a vocalist, to travel the Globe with, I choose these people. They are all incredible musicians.
So without any further delay, let tonight's concert begin!
John, keep 'em swingin!
Yours truly,
Peter"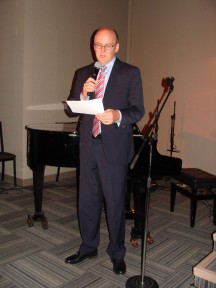 With that the concert began and it soon became obvious why Peter would refer to these musicians as the finest he has ever worked with. They truly are incredible musicians and very quickly had the audience engrossed with their performance.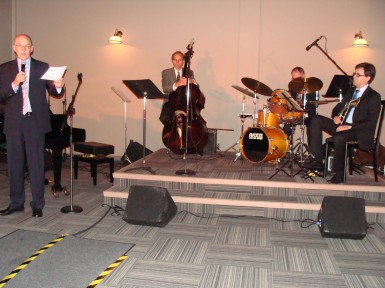 The Peter Appleyard band: John Sherwood, Piano; Neil Swainson, Bass; Reg Schwager, Guitar and Terry Clarke on Drums.
After a few opening numbers the band was joined by excellent vocalist Carol McCartney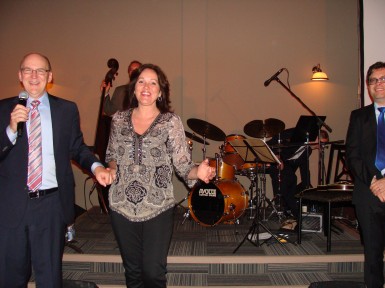 The Founders Room at the Crossroads Centre is beautifully appointed and was an excellent venue for our celebration with comfortable seating for our over 300 guests and a lighting and acoustical ambience to match the calibre of the performance.
Professional Audio Engineer Roger Lapworth generously offered his experience and equipment to augment the sound experience of the performance. You probably didn't notice him at the back of the room…..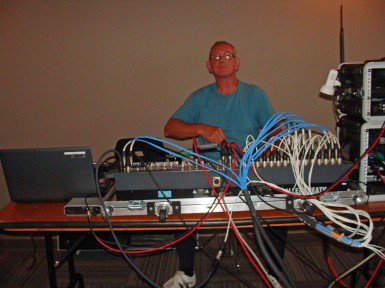 ….as he made sure everything sounded just right. Setting up the sound system and then taking it all apart at the end took a lot of time. On behalf of everyone a very big thank you to Roger. 
An excellent concert came to an end with a well deserved standing ovation. And with that it was on to the closing remarks and the prize draw. Thank you to all of our sponsors who donated the many of the prizes. Winners are as follows:
CARP Halton Region — $100 — Ben Miller
A Seniors Moment™ — Keg Restaurant $100 Gift Certificate — Doug McConnell
Burlington Orthotics — Certificate for a pair of sandals — Zenia Morrier
Canadian Christian Tours — Wine & Cheese platter  — Winston Cragg
Chartwell Classic Oakville —  Tassimo Coffee Maker — Nancy Woodward
www.chartwell.com/locations/chartwell-classic-Oakville
deGraaf Financial Strategies —  Cider Gift Basket  —  Helen McSherry,
deGraaf Financial Strategies — Estate Planning Gift Basket — Ralph Edwards
Disability Tax Solutions —  Paella Pan & Ingredients — Nancy Williams
Disability Tax Solutions — Pitcher & Glasses — Mary Cragg
Dodsworth & Brown Funeral Homes — Prize and Winner TBA
GEM Healthcare Services — Kobo Touch E Reader — Shirley McConnell
Halton Healthcare — 30 minute massage –Winner TBA
Hear More Canada Inc. — $100 Shoppers Drug Gift Card —  Lois Frederikse
Home Instead Senior Care — Bordeaux Wine Gift Box — Doug McConnell
Listen Up Canada — Sonic Boom Alarm Clock — Karen Young
Marcela's Grave Care —  T-shirts & Cap — Winner TBA
http://www.marcelasgravecare.com/
Premier Home Care Services — $50 Tim Horton's Gift Card — Cam Davreux
Royal Botanical Gardens — 5 draws for All Day Family Admission Passes —  Winner TBA
Solutions for Aging —  3 – $10 Time Horton's Gift Cards — Shirley McConnell, Zenia Morrier and Wendy Cragg
Sterling Lifestyles at Home — 128 piece tool kit — Bev Moreland
www.sterlinglifestylesathome.com
The McLennan Group Insurance Inc. — $100 Home Depot Gift Card — John and Sylvia Luckanuck
The Running Company — New Balance 890 Running Shoes — Marjorie Galdie