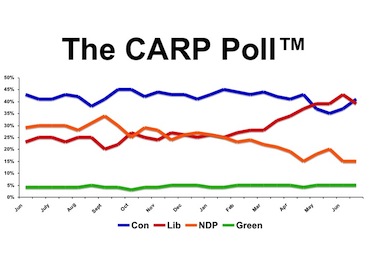 Key Findings
July 12, 2013: Most CARP members are politically involved, and are concerned about the lack of transparency in government. Their biggest complaints about the political process center on MPs who toe the party line at the expense of constituent needs, and their strongest message to MPs is to think of the country, not themselves. Their vision of Canada is equally balanced between sound economic stewardship and prosperity and opportunity for all.
Government's first priority is seen to be working with, not against the opposition to craft the best legislation, and this spirit of a desire for cooperation for the good of the country runs through this report.
Members are split on whether their MP is a good one or not, good ones being responsive to constituent needs and bad ones toeing the party line. Members are equally likely to primarily cast their ballot for the party platform, the candidate or the party ideology.
Members see this parliament as poor or one of the worst in years, primarily because of the political infighting. Most agree with fixed election dates and don't see a need for an election now, primarily because of the expense.
Members don't see the Senate as a positive contributor to Canada's democracy, but more want to reform it than want to abolish it. Most claim to know what its function is. The effect of the current Senate scandal has been to reduce confidence in all institutions of government, not just the Senate.
Members say government's reluctance to deal with CPP enhancements results from an ideological bias against the idea.
Proportional representation and an end to whipped votes are seen to be solutions to parliamentary problems, the most important quality for an MP is a clear vision for Canada and the best vision for Canada balances economic prosperity and justice for all with a sound, well-managed country.
The Conservatives have bounced back from second place and have taken a slim lead over the Liberals again. The NDP are in distant third place.
TCPTG12345