Information posted July 25, 2013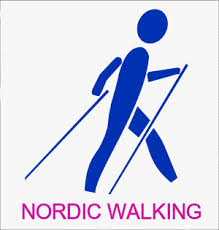 CARP Halton Chapter Director Myrna Penny Talks about Nordic Pole Walking
We recently posted information on the CARP Halton Chapter Web Site and in our e-newsletter about a presentation on Lifestyle Guidelines for Vital Aging by Dr. Klaus Schwanbeck at the Senior Elder Research Council building. All those who attended found it very inspiring. The information Dr. Schwanbeck provides is so well supported by a number of studies!
Klaus Schwanbeck is also the founder of Nordixx Canada. I am glad he was able to share the benefits of this natural and enjoyable form of exercise with the many people who were there.
What you require for Nordic Pole Walking is poles, supportive shoes, the proper technique, followed by a scheduled training plan.  
I am setting up a training program to start in September. This program will be 3 months in duration and will consist of 2 sessions per week. Each session will start with some warm up exercises, followed by 45 minutes of walking with the poles, and concludes with cool -down exercises. This is the regime developed by Dr. Schwanbeck to provide maximum benefit. Walking with a group at a scheduled time also provides a strong incentive. And being with a group is a great social interaction – Walk & Talk is our motto! We advise people to go at their own pace and to listen to what their body tells them. You may start off slow – feel you need to take breaks – or that you can't walk the full time. Another objective of a training plan is to build on your abilities, and again, your body will "speak" to you along the way. On a personal note, I have been walking with poles for a number of years and continue to find it beneficial, enjoyable – and it's a stress-free way to achieve both!
Here are the details:
–          There are a number of outdoor options in Oakville for us to select from. I am suggesting we choose from these to walk on Mondays in the morning, perhaps starting at 11 am. I am flexible with the time and day for the outdoor sessions, so we can agree on that once people have signed up. Not to worry when the weather cools off. Nordic Pole Walking is a great activity for all seasons (well, perhaps not during the very hot weather we have experienced this year!)
–          I would also like to give you experience walking indoors. On Wednesdays at 1 pm we have the availability of a great indoor venue. It is the CAW/TCA Canada Building on 475 North Service Rd., just east of Trafalgar. There is no flexibility on the day and time as this facility is used for many more activities.
The cost
| | |
| --- | --- |
| Traveler Poles – $79.95* | Walker Poles – $69.95* |
| Training 2 times/week, 12 weeks – $75.00 | Training 2 times/week, 12 weeks |
| TOTAL – $79.95 + $75.00 + $20.14 HST = $175.09 | TOTAL – $69.95 + 75.00 + $18.84 HST = $163.79 |
*I can provide the poles and will also set them up to the appropriate height for you.
For those who have poles, the training only will be $75.00 + $9.75. HST = $84.75
CHEQUES OR CASH ONLY PLEASE – CHEQUES MADE OUT TO M&BP SERVICES.
*If you wish to buy poles prior to the start of our September training sessions, the price above + HST applies. Lessons for those who purchase poles is included with the training. Should you wish to learn the technique ahead of our 12 week training session, we can also discuss that. As I have mentioned the technique is important as is walking on a regularly scheduled régime.  We hope that following the 12 week session you will all continue to walk together or with other friends.  
Dr. Schwanbeck ergonomically designed the Nordixx Poles. He worked with manufacturers to select materials that are durable and of optimal weight for walking. Also, the straps hold the poles in place so there is no stress on arms and shoulders while walking. The Mayo Clinic's research shows that poles with straps offer the most benefit. Nordixx straps also assist in propelling you forward.
If you have any friends or family who would like to join us, please have them contact me at either the email address or phone number listed below. Of course you can contact me if you have any questions or concerns yourself.
Myrna Penny, Certified Nordic Pole Walking Instructor, Nordixx Canada
Contact details:  by email to  [email protected] or call 416-433-8406 (cell)