Information posted August 25, 2013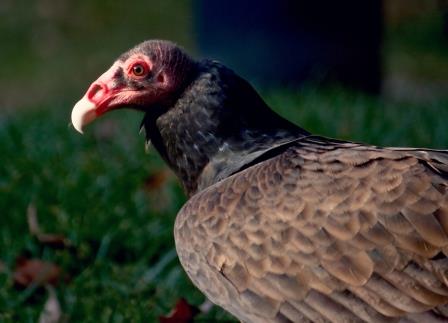 The following may be of interest and is quoted from Conservation Halton's e-newsletter. A great day out especially for grandparents and grandchildren.
Come to Mountsberg on Labour Day to celebrate one of nature's hardest working, and underappreciated, birds
Join us at Mountsberg Conservation Area to celebrate one of nature's most incredible, and frequently misunderstood, creatures on Labour Day, Monday, September 2, as we mark International Vulture Awareness Day.
Vultures all over the world are facing ecological challenges brought on by loss of habitat and pressures from human activity. This is an exciting chance to learn all about these fascinating animals, including ways in which you can help vultures at home and abroad. The Mountsberg Raptor Centre is getting a headstart on the festivities with its event as International Vulture Awareness Day takes place on September 7.
The Turkey Vulture (Cathartes aura) is Ontario's only native vulture species, and their graceful silhouettes are often seen soaring near the escarpment and over Greenbelt rural land. Their bald heads and grisly culinary habits often lead people to dismiss them as unsanitary and unattractive, but this is unfair to the hard-working and highly efficient turkey vulture.
During Mountsberg's International Vulture Awareness Day celebration, park visitors will have the opportunity to learn all about how beneficial vultures are to the environment, and how intelligent and social they can be. The day will involve vulture-themed crafts, games, displays, colouring pages, and opportunities to meet the Raptor Centre's resident superstar turkey vulture, "Casey", up close and 'nose-to-beak'!
This event is free with cost of park admission, Halton Parks members only need to show their pass for admission. Mountsberg's International Vulture Awareness Day activities will take place throughout the day from 10 a.m. to 4 p.m. on Monday, September 2.
The Conservation Halton website is well worth a visit.