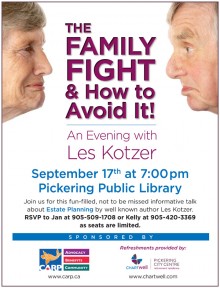 Tuesday, Sept 17, 2013 (7:00 PM – 8:30 PM)
The Family Fight and How to Avoid It! – An Evening with Les Kotzer
Location: Pickering Public Library, 1 The Esplanade, Pickering, ON
 This evening will be fun-filled, not to be missed informative talk about Estate Planning by the well-known author Les Kotzer. Everyone will benefit as Les shares his expertise and tells about his experiences as a 'Wills and Estates' lawyer. Visit his website to have a sneak peak. http://www.leskotzer.com/
LES KOTZER, a Wills and Estates lawyer since 1989, focuses his practice on avoiding and resolving inheritance disputes. He graduated Law School on the Dean's List. He is a member of the Society of Trust and Estate Practitioners.  This local wills and estate lawyer Les Kotzer has something in common with teenage superstar Justin Bieber.  Both were selected to receive The Queen Elizabeth II Diamond Jubilee Medal.   He has penned books relating to wills and estate law including, The Family Fight: Planning to Avoid it, A No Nonsense Guide to Wills & Estates with Barry Fish and The Family War: Winning the Inheritance.  He has appeared on TV stations locally, as well as with CNN and Fox News.
As stated by the Associated Press "Kotzer's approach is to arm members of the family with as much information as possible about the estate process so they know how to negotiate." 
The Windsor Star says, "Les Kotzer is quickly becoming the most sought after Wills and Inheritance specialist in North America."  
Register early for the one time offer to our Durham residents.  Money and death can do strange things to families…….just make sure it is not yours!
If you are interested in attending, please email us at mailto:[email protected]
or call 905 509-1708 to register.
The Event is sponsored by :
Chartwell Retirement – Pickering City Centre
Pickering Public Library
Ireland Financial Solutions
BMO Nesbitt Burns – Daniel Fry
BMO Nesbitt Burns – Michelle Miles
RBC Wealth Management – Dominion Securities
Sun Life Financial