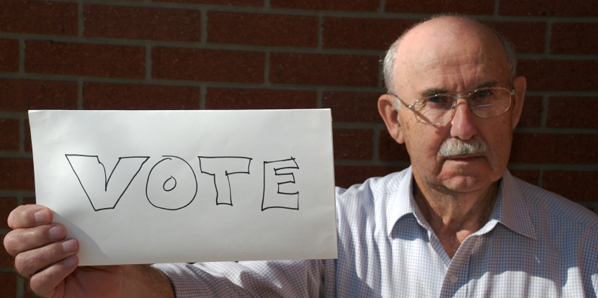 HALIFAX – The quiet home of a Halifax senior provided the backdrop Friday as Progressive Conservative Leader Jamie Baillie made the latest in a series of announcements by Nova Scotia's three main political parties aimed at courting older voters for the provincial election.
"Our seniors made this province what it is today and they deserve to stay in their own home if they wish to and when they are able to," Baillie said while highlighting his promise to spend $6 million to expand a seniors property tax rebate.
The commitment would make seniors earning less than $30,000 a year eligible for a $800 rebate. That would rise from the threshold now set at $19,000 annually.
This article was published by The National Post on September 20th, 2013.  To see this article and other related articles on their website, please click here
The announcement and others like it during the two-week old campaign is a sign of the growing influence of older voters, said an advocate for seniors.
"It's because seniors aren't willing to sit quietly anymore and they understand that they have to be advocates for what they want," said Bill VanGorder of the Canadian Association of Retired Persons.
VanGorder, president of the group's Nova Scotia chapter, said his group has grown to nearly 10,000 members over the last five years. He said surveys consistently show that voting numbers are higher for people aged 55 or older than they are for younger people and the political parties are taking note.
"We have been trying to impress on politicians the fact that they really need to talk to people who actually vote," he said.
VanGorder said the growing attention devoted to health care and housing for the Oct. 8 election is largely the result of seniors exercising their political clout.
Doug Brown, an associate professor of political science at St. Francis Xavier University, said parties have clued in to the fact that older people tend to vote, while those under 30 are voting at rates of less than 50 per cent.
"This current generation of people over 65 grew up in a society where (voting) was expected and encouraged. They got into the habit of voting early."
Brown said the NDP in particular fared well with the senior vote during the last provincial election in 2009, making promises related to seniors homes and home care.
In a bid to get re-elected, the New Democrats have again heavily focused on seniors, promising 700 replacement nursing home beds, financial aid to buy hearing aids and an adviser to review programs for seniors.
In their efforts to woo older voters, the Liberals are promising to meet national standards for hip and knee replacements, update the province's continuing care strategy and develop a plan to address dementia.
Brown said the public across the country can expect seniors receiving more attention from parties in the future, given aging demographics.
"Every single party in Canada is going to court the seniors vote if they are smart," Brown said.
Also Friday, the NDP said it would help people whose household income is less than $50,000 a year get their wells tested. The new service would pay for one test per household every year and look for unsafe levels of arsenic, total coliform and E. coli, the party said.
The NDP said up to 400,000 households get their water from wells.
The Liberals said they would commit $2 million to help family resource centres across the province. Party Leader Stephen McNeil said the money would help the centres offer more programming aimed at parents and early childhood education.