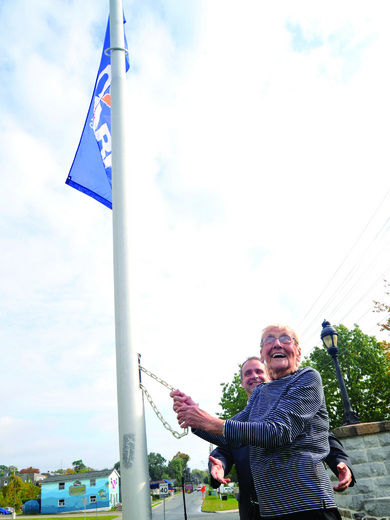 Doris McEwan, 89, has a message for Leeds-Grenville seniors: don't be lonely.
McEwan, a 1948 London Olympic swimmer and active area volunteer, was the special guest at a flag-raising to mark National Seniors Day Tuesday morning.
"Don't be alone. That's got to be the worst feeling," McEwan said after the flag-raising.
"Make a point of getting out there. It's amazing what you learn."
National Seniors Day is celebrated across Canada on October 1. It coincides with the United Nations' International Day of Older Persons.
This article was published by Recorder.ca on October 1st, 2013.  To see this article and other related articles on their website, please click here
Brockville Mayor David Henderson helped McEwan raise the flag, which has the CARP logo on it, behind city call. CARP (formerly the Canadian Association of Retired Persons) calls itself an organization committed to 'a new vision of aging.'
Henderson said Brockville's large senior community makes the city vibrant.
"We know that it's a strong component to our community, a growing component of our community and an important part of our community," Henderson said.
"We know that we have a larger ratio of seniors than most other places in the country. …It's a good thing."
In the Statistics Canada 2011 census, 55 per cent of the Leeds-Grenville population was made up of adults 45 and older.
Organizations dedicated to helping seniors were at the flag-raising to lend support. Representatives from the Brockville Police Service, the Leeds County detachment of the Ontario Provincial Police and the Brockville Fire Department were also on hand.
Deb Steele, chairwoman of the Lanark, Leeds and Grenville Elder Abuse Prevention Network, said it is important to give support to the older population.
The Elder Abuse Prevention Network is working to combat elder abuse with more education. The group works with the Brockville Police Service, OPP, first responders and health care providers.
However, Steele said the group needs more seniors on the network to help give a new perspective to the challenges the group encounters.
"Something that we can actually address is theft by power of attorney, because there's a lot of concerns about misuse of power of attorney," she said.
"By far, most abusers tend to be a family member or somebody that's close to the person."
Steele said it's difficult to say whether elder abuse is a prevalent problem in the region, because it does not require mandatory reporting.
The Elder Abuse Prevention Network is currently working to develop a collaborative, community response to combat elder abuse.
"That way, every agency will know what we do internally and beyond that, what's out there," Steele said.
Brockville Police Chief John Gardiner said elder abuse is always a concern for police, both in Brockville and nationally.
He wasn't sure about local numbers of elder abuse, but said cases are growing nationwide.
"There's certainly increased cases of elder abuse and it's something that police train for," Gardiner said.
© Recorder.ca