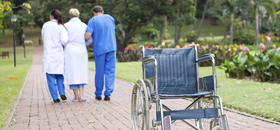 A tragic incident at a private home for seniors with dementia has some calling for more oversight.
Police were called to Evan Hall, a Shannex facility in Halifax for people with dementia and Alzheimer's, around 9:30 p.m. Saturday.
This article was published by The CBC News on October  11th, 2013.  To see this article and other related articles on their website, please click here
Joyce Renouf, a 91-year-old described in her obituary as a wonderful mother and a talented musician, fell during an altercation with a 74-year-old woman.
She was taken to hospital, and died around 9:30 p.m. Sunday.
While no one is saying the family-owned company did anything wrong, it has renewed debate about the lack of standards for Shannex and other private facilities that house dementia patients. It's something Bill VanGorder with the Canadian Association of Retired Persons wants to see changed.
"We need to have standards that mean that people will know what they're getting from facility to facility. In addition to not having any standards at the moment, you don't necessarily get the same care.at one facility that you do in another," he said.
CARP estimates the number of cases of people with dementia will increase nearly threefold as the population ages — from 16,000 to 45,000 in the next 25 years — making it even more important to have standards for care.
The Nova Scotia government currently has no plans to regulate so-called memory care facilities.
"One of the difficulties of trying to regulate is that individuals stay in all kinds of facilities from … a rooming house to these [private] facilities … and those families are expected to ensure that it's the right place for them," said Deputy Minister of Health and Wellness Kevin McNamara.
CBC News asked Shannex to provide information on its standards, but it declined to speak to the media today.
Earlier this week, a spokesperson said Shannex meets the standards of other memory care homes in other provinces.
© CBC News