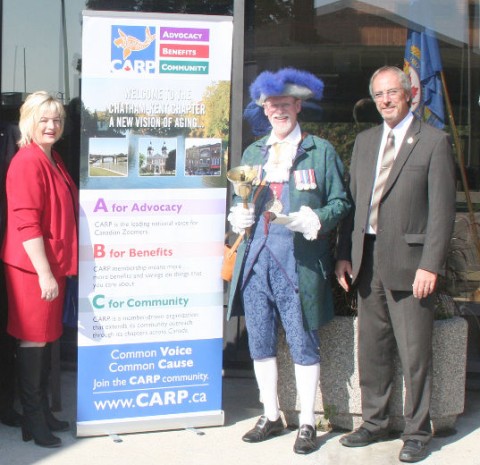 Seniors are Chatham-Kent's fastest-growing demographic and they're making an impact like never before across society, whether it's the senior who takes on a new career after retirement, takes up a new sport, or the senior who is looking to access services associated with growing older.
Oct. 1 was National Seniors Day in Canada and members of CARP Chapter 49, which covers Chatham-Kent, met with Mayor Randy Hope and Coun. Karen Herman in an informal setting after a flag-raising ceremony.
This article was published by Chatham This Week on October 1st, 2013.  To see this article and other related articles on their website, please click here
CARP's local chair is Susan Bechard, who although she is not a senior herself, said most of her clients in her career in the financial services industry are over the age of 55 and she is aware of the issues they face.
The local CARP chapter started in 2012. The three pillars for existence are advocacy, benefits and community. The organization works to provide group memberships for insurance, travel, health and dental.
Bechard said there are about 300 households represented by the local chapter and about 300,000 nationally.
Herman, who sits as council representative on the senior advisory committee, which is currently conducting a needs assessment.
Among those needs are opportunities to socialize and Herman said she had just returned from an announcement in Blenheim about the new senior centre being built there.
Hope commented that seniors are more active than ever, living longer and are healthier. He said that when he was young he thought 50 was old. Now 54, he said age has brought a change to perspective.
In addition to holding regular meetings, CARP regularly brings in speakers on a variety of topics of interest to seniors. On Thursday, Oct. 10 at 7 p.m. at the Active Lifestyles Centre on Merritt Avenue, CARP will host David Boynton of Sun Life Financial and lawyer Daniel Whittal, who will talke about estate planning with a presentation called Don't Die Like An Idiot.
Anyone interested in learning more about the Chatham-Kent branch of CARP may contact Bechard at 519-354-3131 ext. 2229 or board member Steve Brent at 519-397-4526.