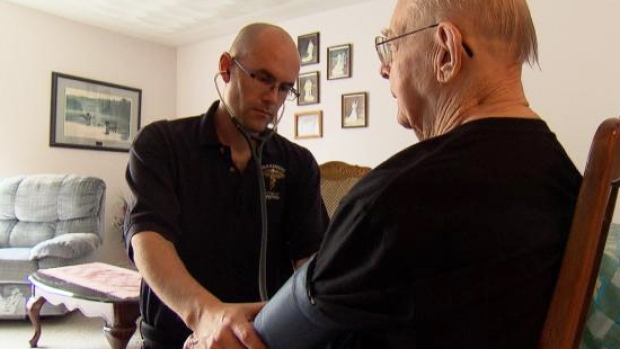 Several years ago, paramedics in Deep River, Ont., came to the realization that most of their 911 emergency calls were coming from seniors living alone. And so they decided to do something about it.
Five years later, they have managed to cut the number of 911 calls from these individuals in half.
The trick: a bit of preventive medicine.
'It's worked overwhelmingly. These are people who don't want to leave their home.'– Michael Nolan, chief paramedic for the County of Renfrew
A group of paramedics frequently checks in on 32 vulnerable seniors in the town, a strategy that has not only helped mitigate emergency calls but reduced their hospital visits by the same amount.
This article was published by CBC News on November 6th, 2013.  To see this article and other related articles on their website, please click here
"It's worked overwhelmingly," says Michael Nolan, chief paramedic for the County of Renfrew.
"These are people who don't want to leave their home."
During the visits, paramedics will perform a basic health check, which can include making sure the clients are eating right and helping them complete their exercise regimes.
A cure for lengthy wait lists?
The community paramedics program began five years ago, when the local nursing home faced a lengthy wait list. Seniors with anxieties or in need of health advice who were still living at home often had no one else to call except 911.
Since then, the scheduled paramedic visits have permanently removed some seniors from the nursing home wait list.
Organizers estimate it costs the health care system about $60,000 a year for a bed in a public nursing home.
The community paramedics program offers similar care, at home, for nearly $50,000 less than it would cost to keep these individuals in a long-term care facility.
"We've been able to identify that there's been a 1.6-million-dollar savings simply by keeping people in their own home," Nolan says.
For the paramedics, the savings far outweigh the cost of about $75,000 a year to keep the program running.
Four out of 12 Deep River paramedics rotate through the weekly shifts visiting seniors. Chris Day, one of the paramedics, says the program was brand new when he first started out five years ago.
Now, he says, "I have a very strong belief in community paramedicine and preventive medicine, not just the more reactive and emergent calls."
Keeping seniors company
When Day isn't dealing with accidents on the nearby Trans Canada Highway, he often spends time with 82-year-old Wilt McCarthy.
As a Type II diabetic, McCarthy says he'd have to make a lot more trips to the doctor if Day didn't come by every week to check his blood sugar levels.
"It means quite a bit to me because there's no one else to do it," he says. "When you're alone, it means a lot."
Day also enjoys the visits, and sometimes stops by McCarthy's apartment just to keep him company.
"Living on his own, he doesn't get out and see a lot of other people," Day says. "We both are very big sports fans, so talking baseball is something that he likes to do."
According to the latest census data, about 5 million Canadians were 65 or older in 2011.
With that number expected to double in the next two decades, Deep River is becoming a model for other communities.
A year-long community paramedics pilot program is now underway in York Region, and Michael Nolan is also in talks with governments in Alberta, B.C., Saskatchewan and Manitoba to implement similar programs.
Dr. Samir Sinha, the director of geriatrics at Toronto's Mount Sinai Hospital and head of the Ontario Seniors Strategy, says community paramedics programs will be a key part of future health care policy.
"We're starting to see that more and more Canadians want this sort of care," he says, "and actually, this care is often cheaper to provide than institutional care."
Nolan envisions a future where "the steady hand of a paramedic, some good advice from family members and the watchful eye of the community" can help keep seniors across the country living at home throughout old age.

© CBC News