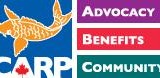 MEDIA ADVISORY
December 10, 2013
Toronto, ON: CARP Chapter chairs from BC. Alberta, Quebec and Nova Scotia will join CARP VP Susan Eng to meet with Ontario Premier Kathleen Wynne and Finance Minister Charles Sousa to ask them to put pressure on their colleagues to act on CPP increase at the December 16th federal-provincial finance ministers meeting.
CARP has 57 local chapters across the country, including in every capital city. They have called on their respective Finance Ministers to support an increase to the CPP. The specific chapter chairs [descriptions below] were selected because they come from the provinces that have yet to signify their support for CPP increase. Those provinces are needed for the province count and population figures in the CPP amending formula.
The Federal Finance Minister will meet the provincial Finance Ministers in Meech Lake on December 16th and a CPP increase is expected to be on the agenda. The federal government has already voted down the Opposition motion to increase the CPP.
CARP will be urging the Ontario Premier and Finance minister to get the support of their counterparts and convince the federal Finance Minister to agree to act now on the CPP increase.
Meeting between CARP Delegation and Premier Kathleen Wynne and Finance Minister Sousa
Date      Wednesday, December 11th
Time      8:30 am – 9:15 am – meeting [closed to media]
               Media availability and photo op – 9:15 am – 10 pm
Place     Cabinet Room – Queen's Park Second floor
[opposite Premier's office Room 281]
Media Availability in boardroom next to Cabinet room
CARP Chapter chairs attending
Lee Royko – Vice Chair of CARP Montreal; past City Councillor, Ville de Léry, Quebec; Principal of MarkNat Business Consulting
Bernice Rempel – Chair of CARP Edmonton, past Home Economist and Educator in the City of Leduc, Alberta
Bill VanGorder – Chair of CARP Halifax, Member of CARP's Board of Directors, and MRC Associates, the Atlantic distributors for Nordixx Pole Walking Canada; President of the Group of IX Advisory Committee on Seniors' Issues to the Provincial Government
Ramona Kaptyn – Chair of CARP White Rock-Surrey; Board Director, White Rock Surrey Chamber of Commerce
CARP is a national, non-partisan, non-profit organization committed to advocating for a New Vision of Aging for Canada, social change that will bring financial security, equitable access to health care and freedom from discrimination. CARP seeks to ensure that the marketplace serves the needs and expectations of our generation and provides value-added benefits, products and services to our members. Through our network of chapters across Canada, CARP is dedicated to building a sense of community and shared values among our members in support of CARP's mission.
For further information, please contact:
Sarah Park
416.607.2471
cell: 416.569.0981
Media Relations, Policy Researcher and Coordinator
[email protected]
Michael Nicin
416.607.2479
cell: 647.678.0757
Director of Policy
[email protected]
Siobhan MacLean
416.607.2475
Cell: 647.401.4877
Media and Communications Coordinator
[email protected]