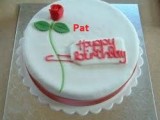 Join us at the January 23, 2014 meeting !!
Here is the info for that General Meeting:
CARUSO CLUB – Lower Hall – Jan.23 – 1 p.m. to 3 p.m.( Change of venue this meeting only).
Topic – Discovery of Happiness
Come celebrate Pat Douglas's 70th birthday.Cake & coffee served.Everyone welcome.
Our Guest Speaker will be:
Sheetal Pundir – PHD research student will talk on "My Simple Discovery of Happiness "
Current 2013- D-86 International Speech contest winner at Toastmasters International

PhD student conducting research at Advance Medical Research Institute of Canada, Sudbury
See Meeting Information sheet