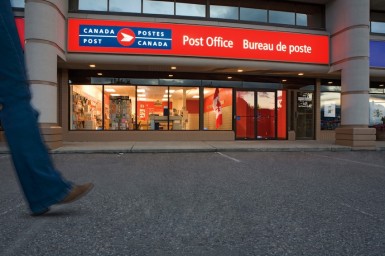 Canada Post Media Hits Compilation
On December 11th 2013, Canada Post announced that it would be phasing out door-to-door delivery of regular mail to urban residents and increasing the cost of postage in a major move to try and reduce losses.  The Crown Corporation explained that the phasing out would occur over the next give years while the cost of postage would increase starting March 31st.
Naturally CARP anticipates that this move may cause serious issue to older Canadians and Canadians with mobility hindrances who do not have friends and family to assist them on a regular ongoing basis.  CARP was asked for its statement and was interviewed quite a few times over the following week.  Here are some stories featuring CARP's point of view, along with relevant excepts:
CBC News: " Canada Post to phase out urban home mail delivery" – December 11th, 2013
The seniors advocacy group CARP said in a statement that the changes will create a barrier for elderly residents, particularly those with mobility issues.
"People who do not have family or caregivers will be denied access to necessary communications — whether bills or more important to them, letters from family," the group said in a statement.
 "Before instituting such wide-ranging changes, some provision must be made for those who actually still value the postal service and rely on it heavily."
Misty Harris for ocanada.com: "Canada Post changes seen as a blow for seniors, people with disabilities" – December 11th, 2013
Susan Eng, vice-president for advocacy at CARP, expressed similar concerns regarding seniors.
"This is probably the last group that's still really interested in ordinary post mail. And they're the ones being hit," said Eng, whose organization represents Canadians 50 and older. "That doesn't make any sense."
Global News: "How Canada Post's home delivery cuts could affect seniors and the disabled"
Another seniors advocacy group, CARP, has been receiving calls from concerned members all day, according to vice president Susan Eng.
"It's very hard because although they might be independent in their own homes, getting out and about is not easy for them," said Eng. "And in weather like this, it also can be risky."
Eng said people who don't have family or caregivers will be denied access to things like bills or likely more importantly, cards and letters from family.
"This demographic is probably the last demographic who actually really supports the postal service," she said. "They rely on it, they care about it, they don't see that email is necessarily a substitute. Some can't afford…a computer and so on."
 The Star Phoenix: "Canada Post to phase out home delivery, but will most Canadians notice?"
The Canadian Association of Retired Persons said that seniors with mobility issues still want home delivery.
"I understand that you've got all these postal workers that cost (money) over time, but they should have thought of that before, when they realized the nature of their business was going to shift dramatically," said Susan Eng, vice president for advocacy at CARP.
"They've created a crisis for themselves and this is the way they want to get out of it."
Obviously not Thinking of the Most Vulnerable…
On December 18th, Canada Post CEO Deepak Chopra gave an astounding answer when questioned by an MP.  The MP observed that the elderly would be especially hard hit by the cancellation of home mail delivery and Mr. Chopra responded that the walk to their community mailboxes would be good for their health.  
Asked how the post office would accommodate people with disabilities, Chopra said extra mailbox keys would be given to people so others could pick up their mail, or the height of community mailboxes could be adjusted.
Came CARP's response: "It's not the seniors who want more exercise that concern us. It's those who can't walk easily or risk falling on ice. An extra set of keys is a sorry response."