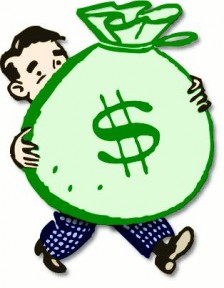 The federal government could unveil "a larger surplus" than it has anticipated when it gets the books back to balance in 2015, Finance Minister Jim Flaherty says.
In an interview with CTV's Question Period that aired Sunday, Flaherty said he is confident that the government will fulfill his recent promise to wipe out the budget deficit for the 2015-16 fiscal year.
Flaherty said the government will achieve surplus largely because "we're controlling our own departmental spending," and not by reducing transfers to the provinces or cutting programs or benefits.
This article was published by CTV News on January 5th, 2013. To see this article and other related articles on their website, please click here

When asked if the Canadian economy could end up in better shape than expected, especially if the United States' economy continues to get stronger this year, Flaherty said:
"We could be. We could have a larger surplus than we anticipate, but we will have a surplus."
'We don't really have a debt issue'
While the federal government is headed to balanced books, statistics indicate Canadians' personal debt levels continue to grow. But Flaherty said that while he was once worried that Canadians were taking on too much housing debt, he believes his moves to shore up mortgage rules have kept housing debt loads in check.
"House builders and condo builders were telling me about young people graduating and buying way more house than they needed and driving an Audi. I think we used to wait a little longer before we got big houses and fancy cars, so that worried me," Flaherty said.
"But as I say the market is calming somewhat, so I'm less concerned than I was. And when you look at debt to net worth, as long as the housing market remains relatively strong, we don't really have a debt issue."
However, Flaherty said, he would intervene to further tighten mortgage rules if the market appears to need further cooling.
"What we've been trying to manage, to the extent that governments can manage the housing market, is a soft landing, a gradual reduction. And we've seen that, we've seen some softening in the housing market, including the condo market," he said.
"We've tightened the rules four times on mortgage insurance and if we have to tighten them again, we will."
He added: "We have to be vigilant because that market is really important for jobs in Canada."
'The prime minister's not going anywhere'
Flaherty says that although "my family would appreciate" it if he left politics for a lucrative private-sector job, he still intends to run in the 2015 election.
"I told the prime minister I would run in 2015 and we'll see after that," Flaherty said.
Asked whether he would run for the Conservative Party leadership if Prime Minister Stephen Harper decides not to run, Flaherty said "the prime minister's not going anywhere, from my discussions with him.
"I'm satisfied that he intends to run again and win another four-year term."
© CTV News