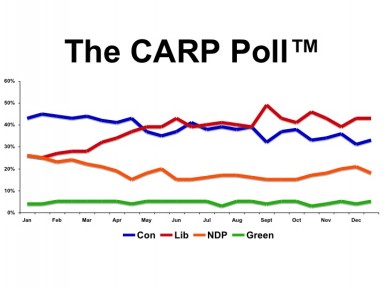 Key Findings – CPP
January 10, 2013: When presented with two government positions – one that Canada has never been wealthier and the other that Canada is not wealthy enough to afford expanding CPP, members agree this means the government will never declare the economy healthy enough to sustain a bigger CPP, because it has a basic ideological bias against pensions.
This bias risks losing the government as much as a third of its core vote among members. CPP Enhancement is preferred by CARP members over provincial supplementary pension plans.
Canada Post
Just less than half say the end of door-to-door delivery will cause a hardship, but it is a minority who say it will be a great hardship.
Advocacy
Health care reform, pension reform and ethics in government are seen to be the most important issues CARP advocates on, and CARP is seen to be especially successful at advocating against ageism and negative social attitudes.
Most think the government made no progress on any of the seniors' issues asked about, but many felt the opposition showed leadership on ethics in government. CARP is seen to be effective both in awareness-raising and in working behind the scenes.
Membership
Members join CARP to have a voice and also to promote the rights of older Canadians, and this is why they stay members. Advocacy grows in importance once members have joined, while benefits and the magazine decline somewhat in importance. Two thirds of members also belong to CAA, which offers similar benefits.
Members see the point of large advocacy organizations as having more clout with politicians and because many can do more than one. Most members are politically engaged, and the vast majority will recommend CARP membership to family and friends.
Volunteering/Charitable Donations
Virtually all members volunteer or donate to charity, and most donations go to disease research organizations or social welfare charities.
Electoral preference
The Liberals continue to lead member voting preference, with the Conservatives in second place and the NDP in third.
TCPTG12345