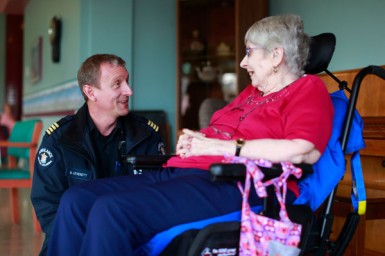 Editor's Note: What follows is a news release from the Government of Ontario. This is good news! Both CARP and Dr. Samir Sinha (appointed in May 2012 by the Minister of Health and Long-Term Care to lead the development of a Seniors Strategy for Ontario) had made this recommendation in the past. CARP supports this development as a positive step.
Community Paramedicine Programs Improving Access to Care for Seniors
Ministry of Health and Long-Term Care
January 21st, 2014: Ontario is supporting the expansion of community paramedicine programs to improve access to home care and community support services for seniors and other patients with chronic conditions.
The province is investing $6 million to support the expansion and development of community paramedicine initiatives across the province. These programs allow paramedics to apply their training and skills beyond the traditional role of emergency response, and can include:
Providing home visits to seniors known to call emergency services frequently, to provide a range of services such as ensuring they are taking their medications as prescribed.
Educating seniors in their homes about chronic disease management and helping to connect them to local supports, such as Diabetes Education Teams.
Helping refer patients to their local Community Care Access Centre (CCAC) so that they can be provided with appropriate home care services.
Community paramedicine programs will work with teams of health professionals, including Health Links, to co-ordinate care for individual patients with complex chronic conditions. These programs will help seniors and other patients to live independently, while helping to reduce unnecessary emergency room visits and hospital admissions.
Ensuring seniors and other high need patients can access the right care, at the right time, in the right place, supports Ontario's Action Plan for Health Care. This is part of the Ontario government's plan to invest in people, build modern infrastructure and support a dynamic and innovative business climate.
Quick Facts
More than half of Ontario residents currently have access to community paramedicine programs in their communities.
Approximately 13 community paramedicine programs are currently operating in Ontario.
In 2014, 10 additional municipalities and Emergency Medical Services (EMS) providers are planning to implement community paramedicine initiatives.
Expanding community paramedicine in Ontario was a key recommendation contained in Dr. Samir Sinhas report, Living Longer, Living Well.