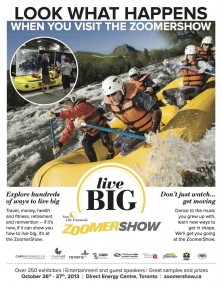 Volunteer at the Vancouver ZoomerShow – this is the perfect opportunity for you to meet like-minded Zoomers and CARP members.  You do not have to be a Zoomer or CARP member to volunteer so invite your family, friends, colleagues and neighbours to come along with you.  There are various positions available, including: Registration Desk, Bag Attendant, Floater and Information Representative.
Shifts run on Saturday February 22 from 9:00am 1:30pm or 1:00pm 5:00pm and on Sunday February 23 from 10:00am 2:00pm or 1:30pm 5:00pm.  Snacks and refreshments will be provided both days.
On Thursday February 20 and Friday February 21, volunteers are needed to help create attendee bags. This will begin at 10am and run all day.  Again, refreshments and snacks will be provided.
If you are interested in volunteering, please contact Katie at [email protected] or by calling 416.368.3194 x371.