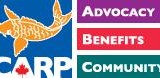 FOR IMMEDIATE RELEASE
Ottawa: CARP members will be disappointed that government missed the opportunity to offer real action on caregiver support or dementia care. The silence on the larger issues that concern them, like pension security, home care standards and funding and pharmacare will disappoint.
"Even on specific promises made in the Throne Speech, there is only a vague commitment to consult. So there's no specific relief for workers who have caregiving responsibilities not any specific proposal to help families deal with dementia.
"CARP members have made it clear that pension reform, access to home care and drug costs are important to them and even ballot issues. So either the government does not believe them and think it won't matter come election time." Said Susan Eng, VP Advocacy for CARP.
To arrange for further comment from Susan Eng please contact Sarah Park, [email protected] or cell: 416-569-0981
Commitments to end pay to pay and to consult with banks to expand low cost banking are of course welcome. The commitments to ensure transparency in merchant fees for credit card transaction is not the same as ensuring that extra fees are not charged to the consumer for using a premium credit card.
Caregivers
The added flexibility to suspend Compassionate Care benefits to access benefits would help a very narrow group of people. A great deal more is needed to help workers who have caregiving responsibilities.
Dementia Care
The creation of the Canadian Consortium on Neurodegeneration in Aging in Economic Action Plan 2014 implements the 2013 Speech from the Throne commitment to renew investments in health research to tackle the growing onset of dementia and related illness. However, when CARP members were polled on the weekend on what action they wanted from government, only 11% thought more research was needed. Most want more specialized home care services and doctors specializing in dementia care.
CARP is a national, non-partisan, non-profit organization committed to advocating for a New Vision of Aging for Canada, social change that will bring financial security, equitable access to health care and freedom from discrimination. CARP seeks to ensure that the marketplace serves the needs and expectations of our generation and provides value-added benefits, products and services to our members. Through our network of chapters across Canada, CARP is dedicated to building a sense of community and shared values among our members in support of CARP's mission.
For further information, please contact:
Sarah Park 416.607.2471
Media Relations, Policy Researcher and Coordinator
[email protected]

Michael Nicin 416.607.2479
Director of Policy
[email protected]
Siobhan MacLean 416.607.2475
Media and Communications Coordinator
[email protected]
for
Susan Eng
Vice President, Advocacy
[email protected]