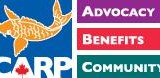 FOR IMMEDIATE RELEASE
February 19, 2014
Mississauga, ON:
CARPs first Job Fair will match job seekers with interested employers looking to hire dedicated older workers, breaking down barriers between older Canadians and employers. The CARP job fair will take place in Mississauga on February 24th at 5110 Creekbank Road, from 8:30 am to 6:00 pm.
Older Canadians want and need to work. Many older workers and job seekers have difficulty finding work due to employment barriers rooted in age discrimination. The CARP job fair, featuring a concurrent symposium, will help older Canadians get back on track with the right job to match their skills, interests and dedication.
The CARP job fair, free* with February 23rd pre-registration, will showcase 40-plus exhibitors, including businesses looking to hire, career coaches, recruiters, second careers schools, and advice on how attendees can turn volunteer opportunities into job opportunities or start their own business. Attendees can also have their resumes reviewed by HR professionals.
The symposium (including breakfast, lunch and cocktail reception for $69) gives attendees the chance to hear industry experts talk about the benefits of being an older worker. Attendees will learn how to highlight the benefits and value-added job experience older workers bring to any work environment. The symposium will also include training on how to use social media, start businesses, and take advantage of network marketing and a wide range of franchising options.
CARP Free* job fair and symposium- Work Reimagined
WHEN
February 24, 2014
8:30 am – 6:00 pm
WHERE
CHSI (Centre for Health & Safety Innovation)
5110 Creekbank Rd
Mississauga, ON L4W 0A1
Buy tickets or pre-register online: Tickets and Registration
* Free job fair for everyone who pre-registers by February 23, or $7 at the door. The Symposium runs simultaneous to the job fair; $69 for the full day, including breakfast, lunch and cocktail reception, great speakers and social media and resume tips.

Contact for interviews:
Contact: Adina Lebo, CARP Toronto-Downtown Chapter Chair, 905-691-3462
Email: [email protected]
Contact: Murray Etherington, CARP Mississauga Chapter Chair, 905-824-0919
Email: [email protected]