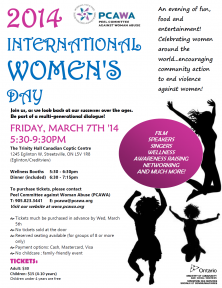 Peel Committee Against Woman Abuse (PCAWA) invites you to join us for an intergenerational celebration of Women, as we reflect back on our successes as women over the last several decades in celebration of International Womens Day, on March 7th, 2014. We will be hosting a wellness reception, dinner and entertainment, and have several singers and speakers present.
March 8th is celebrated every year around the world as International Womens Day, recognizing the achievements of women in our community and across the globe. International Womens Day continues to be an opportunity to celebrate the progress made to advance equality for women and to assess and respond to the challenges that remain.
The event is coordinated by the PCAWA, in collaboration with Interim Place, Victim Services of Peel, Vita Centre, OASIS Centre des Femmes, Newcomer Centre of Peel, Peel HIV/Aids Network, East Mississauga Community Health Centre, Catholic Crosscultural Services of Peel, MIAG, Bramalea Community Health Centre, Salvation Army Family Life Resource Centre, Victim Witness Assistance Program and several dedicated community volunteers.
Tickets:
v $30 – Adult tickets
v $15 – Children (4-10 years)
v Children under 4- free
This is a family- friendly event, and children are welcomed into the hall. No childcare provided
Ticket prices are inclusive of the entire event. Please purchase tickets in advance by calling PCAWA office at 905.823.3441 ; no tickets available at the door.