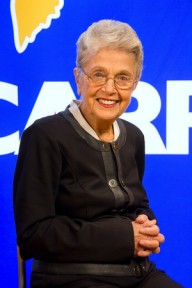 TORONTO, ON She's 85 and boy is she still going strong! I hope the gods of longevity dont get me for that one! She adds with a chuckle.
Her name is Carol Libman and she's been answering questions for CARP members since 1988. Her writing career has taken her to The Montreal Gazette, several weekly newspapers and magazines, as well as into radio and theatre.
A native Montrealer, she and her late husband Syd spent several years in Sault Ste-Marie, where the theatre bug hit. On their return to Montreal, she was a founder of the renowned Canadian play development organization Playwrights Workshop Montreal, still going strong after 50 years. On her re-location to Toronto, PWM established the Carol Libman Resource Centre to honour her 20 years of work with the organization.
In March of this year she will have not one – but two – plays in performance. One of these evolved from Connections, a one-act play that Carol had initially created for the Aurora Theatre's Playwrights of Spring Festival. But, as she explains, the characters refused to leave the stage.
And so it was that lovingly, Carol continued to breathe life into these characters and to give them a chance to say what they needed to say. Carol continued to let Connections evolve and it has become a new full-length play called A Life Beyond Doubt. The plays characters range in age from 14 to 70. With great humour and compassion, they confront loss and love while exploring the road forward and the power of memory.
For those inquiring CARP members who would like to know how Carol came to be a writer, Libman explains: It's all my mother's fault! When I was six I had chicken-pox; I couldn't play with my friends, and I was driving her crazy. So, in desperation, she handed me a paper and pencil and said, Here. Write something". And the rest, as they say, is history….
This March 2014, Tomorrow Eve Theatre Productions will present A Life Beyond Doubt at the Sterling Studio Theatre in Toronto.
This multi-generational play is ideal for an inter-generational audience, everyone from teens to great-grandparents is not only welcome but also likely to relate!
WHEN
The play premieres on Thursday, March 6th at 8 p.m. Thereafter it will run every evening at 8 p.m. until the finale on Saturday, March 15th . Please be advised that there is one exception: there will be no performance on Tuesday March 11th.
There will be three matinee showings: Saturday March 8th, Sunday March 9th and Saturday March 15th all of which begin at 2p.m.
WHERE
Sterling Studio Theatre
163 Sterling Road, Unit 5
(Just west of the intersection of College and Dundas Street)
Toronto, Ontario
Tickets/More Information
Tickets are available online at www.brownpapertickets.com/event/571061 or by phone at 1-800-838-3006, ext.1.
Tickets for the evening performances cost $20 online or by phone and they are $15 for matinees. At the door, the regular price is $25, but only $20 for seniors, students and arts workers. A limited number of for Pay-What-You-Can tickets will be held at the matinees.
More information on the productions is also available at 416-512-6913.