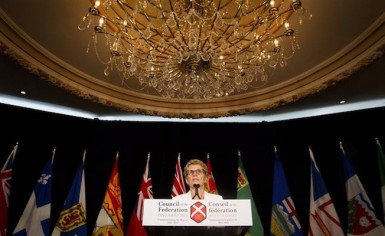 Pressure is mounting on Prime Minister Stephen Harper to enhance the Canada Pension Plan after Prince Edward Island and Manitoba joined Ontarios efforts to boost retirement income.
Premier Kathleen Wynne and P.E.I. Premier Robert Ghiz on Wednesday repeated their call for Harper to improve the national plan.
Wynne and Ghiz announced that Canadas most populous province and its smallest were joining forces on the issue and have convinced Manitoba to climb aboard as well.
We know that our voices are always stronger when we stand together, the Ontario premier said at Queens Park.
I am confident that by working with other provinces, we can find a viable, responsible solution to protect workers in their retirement, she said.
Wynne has promised an Ontario pension plan will be unveiled and that it will likely be the cornerstone of the Liberals campaign platform in an election expected this spring.
This article was published by The Toronto Star on March 5th, 2014. To see this article and other related articles on their website, please click here
Ghiz said officials from P.E.I. and Manitoba would join Ontarios technical advisory group on retirement security, which is looking for alternatives to CPP enhancement.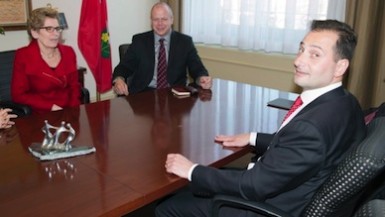 Former PM Paul Martin, who as federal finance minister was instrumental in saving CPP almost a generation ago, is also helping.
Speaking as incoming chair of the Council of the Federation, the premiers organization, Ghiz said the provinces and territories would continue to demand Harper improve the national plan.
At their last meeting, the provincial and territorial ministers all agreed to explore options to improve Canadas retirement income system, he said.
Unfortunately, the federal government chose to ignore this consensus and attempted to shut down any further discussions. We will continue this important work with or without a federal partner.
Federal junior finance minister Kevin Sorenson has repeatedly warned it would disadvantage Ontarios businesses with higher payroll taxes, killing jobs and deterring investment to have a provincial pension plan.
Employees simply cant afford a smaller paycheque in this fragile global economy, he said in January.