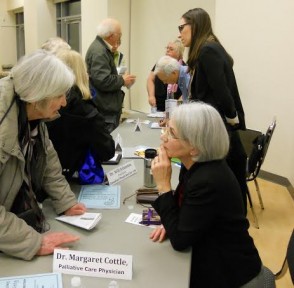 Our last event entitled Dying to Have a Conversation: Let's Talk About End of Life Issues was a success judging from the turnout. We had to turn people away.
On the panel were four professionals; two who were Pro-Life, Dr. Margaret Cottle, a palliative care physician and Dr. Will Johnston of Euthanasia Prevention Coalition. On the other side, there was Dr. Jim Stephenson, Chairman of the Board of Dying with Dignity and Ms. Grace Pastine, Chief Litigator of the B.C. Civil Liberties Association who represented Gloria Taylor et al in their right to die.
Moderator, April Lewis kept the passion in the room contained as emotions ran high as this proved to be a timely but sensitive issue. There was even a Catholic priest challenging Dr. Stephenson on the ethical template of his organization.
There was at times tension between panel members with divergent views on physician assisted suicide and euthanasia.
A medical marijuana advocate challenged the pro-life doctors as to why so few physicians prescribe marijuana to their patients who are either terminal and/or in chronic pain.
Other CARP members in the room had an opportunity to ask the panel questions.
It was a passionate and lively discussion.
The conversation continues on Vision TV on Monday April 7th with The Zoomer Show featuring its panel on Assisted Suicide followed by a two hour documentary from 7 – 9 p.m, narrated by Christopher Plummer, entitled The Trouble With Dying.